W H Perkin Jr, Robert Robinson, Ewart Jones and Jack Baldwin - giants of the DP
The Dyson Perrins Laboratory and Oxford organic chemistry 1916-2004
Rachel Curtiss, Catherine Leith, Joshua Nall and John Jones
Oxford, UK: John Jones, Balliol College 2008 | 144pp | ?16.00 (SB) ISBN 9780 95125 6947
Reviewed by Derry Jones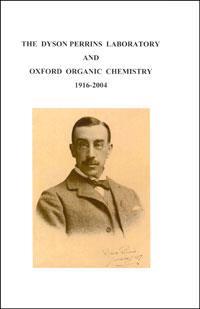 Despite the achievements of William Odling's demonstrators, organic chemistry research at Oxford was at a low ebb a century ago. In 1909, Herbert Warren's committee proposed that Odling's successor in 1912 should be an organic researcher provided with respectable laboratories.
W H Perkin Jr imposed stringent conditions to lure him away from Manchester: top-class laboratories, support of assistants etc. The new university (rather than college) building was founded with an endowment from Charles Dyson Perrins, grandson of the pharmacist developer of Lea & Perrins Worcestershire sauce, and the laboratories became known as the Dyson Perrins (DP) laboratories. To broaden access for science students, Perrins tried unsuccessfully to have the requirement of Greek abolished; compulsory Greek only went in 1920 and Latin in 1960. Under the urgency of first world war chemical research, Perkin, a hospitable and cultured man, promoted the introduction of both the D. Phil and the part II year for research training.
Robert Robinson, who was also poached from Manchester, still experienced opposition to election of prot?g?s from outside to college fellowships. In 1955 E R H Jones encountered overcrowded, neglected, unsafe, and depressing buildings, but renovated the DP to achieve a department worthy of Oxford. A 'benevolent autocrat', Jones, who helped the merger of the chemical societies into the RSC, criticised Oxford's tutorial ('coaching') system, professors who didn't lecture, and the semi-detachment of university and college appointments.
Vacated for research in 2003, the DP was designated an RSC Landmark in 2004.
John Jones and three recent part II graduates have compiled an informal annotated insider history of the DP and its principal organic chemistry themes and characters. A collection of photographic portraits, final papers from 1914 and 1964, and other course details contribute to a candid and entertaining chemistry story.