The science of good food
David Joachim and Andrew Schloss
Toronto, Canada: Robert Rose 2009 | 576pp | ?23.00 (HB)
ISBN 9780778801894
Reviewed by Tony Stubbings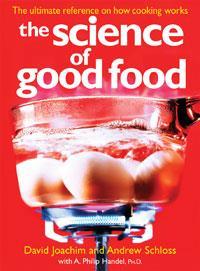 Award-winning chefs and cutting-edge restaurants around the world are famous for using the principles of chemistry and physics to create exciting new taste sensations. From Ferran Adri? of El Bulli restaurant in Spain, Homaro Cantu of Moto in Chicago, US, and Heston Blumenthal of Fat Duck at Bray, UK, great chefs combine unexpected textures and flavors with secrets of new cooking techniques in great dishes.
This A-Z reference work is not aimed at scientists, but seeks to brings the science of food to home cooks, professional chefs, armchair gourmets and anyone interested in how cooking works. It does not therefore provide the in-depth insights into the science behind cooking which a chemist might expect, but the more than 1800 very readable and well-illustrated entries clearly explain the physical and chemical transformations which govern all food preparation and cooking.
Also included are 100 recipes that demonstrate those principles. Readers will be fascinated to learn how deep-fat frying works, how copper bowls affect eggs, how to make perfect French fries, what kind of grill gives you the best crust on a steak, what happens to shortbread at high altitude, how butter tenderises cake, and why onions make you cry (and how to stop the tears).
Information is given on the basic molecular make-up of meats, poultry, game, fish, shellfish, vegetables, fruits, cheese, eggs, dough, and most other foodstuffs, as well as how these foods react to heat. Principles such as aeration, caramelisation, and gelatinisation are explained.
Bursting with practical tips and their scientific foundations, Joachim and Schloss seek to bring molecular gastronomy into the home kitchen to provide practical information that you can use to create better tasting food.
Further Reading
H This: Kitchen mysteries: revealing the science of food (Arts & traditions of the table: perspectives on culinary history) (2007). Columbia University Press. ISBN 9780231141703
H This: Molecular gastronomy exploring the science of flavor (2008). Columbia University Press. ISBN 9780231133135
H McGee: McGee on food and cooking: an encyclopedia of kitchen science, history and culture (2004). Hodder & Stoughton. ISBN 9780340831496
P Barham: The science of cooking (2000). Springer. ISBN 9783540674665
H Blumenthal: The Fat Duck cookbook (smaller format edition) (2009). Bloomsbury Publishing. ISBN 9780747597377
H This: Building a meal: from molecular gastronomy to culinary constructivism (2009). Columbia University Press.
ISBN 9780231144667
F Adri? : Modern gastronomy (to be published in December 2009). CRC Press. ISBN 9781439812457