Information retrieval: SciFinder
Information retrieval: SciFinder
Damon Riley
Chichester, UK: John Wiley 2009 | 226pp | ?29.95 (SB)
ISBN 9780470712450
Reviewed by Neil Walden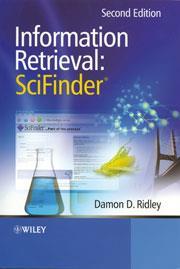 This is the second edition of a book first published in 2002; it is fully revised and updated to incorporate the latest functionality and content of SciFinder.
The book provides an extensive review of the use of this well-known information search tool aimed largely at research scientists, and provides detailed methodology in obtaining the best from its use.
Within each chapter there are a number of useful 'search tips' and 'comments', which assist the reader to use SciFinder to best effect whether they are looking for information on scientific topics, large or small molecule chemical substances, chemical reactions, are conducting a broad subject enquiry, or wish to set up an alert.
The remainder of each chapter explores the search techniques in great detail, including optimum ways to focus broad searches in order to provide the best sets of answers, and gives examples to illustrate each technique, as well as a helpful summary which highlights the key points covered in that section.
There are six appendices which provide further information on indexing of substances and other resource material pertaining to the use and understanding of the indexing and search methodology behind SciFinder.
Overall this is a valuable resource and reference volume on using SciFinder to its full potential, while allowing the more casual user to dip into the key points and tips without delving into the complexities of the underlying algorithms used by SciFinder and the book therefore serves both the occasional use and expert alike.