Perfumes: The guide
Luca Turin and Tania Sanchez
London, UK: Profile Books 2008 | 384pp | ?20.00 (HB) ISBN 9780670018659
Reviewed by Bill Casey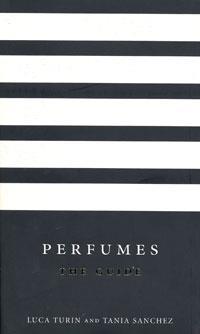 This book by husband and wife giants of the perfume industry, Luca Turin (biophysicist and leading proponent of the vibration theory of olfaction) and Tania Sanchez (journalist and perfume critic) starts off with a series of essays on perfume criticism, the nature of masculine and feminine fragrances and a history of the chemistry of perfumes. Turin points out that the official birthday of fragrance chemistry is generally held to be the discovery of a synthetic route to coumarin by Perkin, as reported in the Journal of the Chemical Society in 1868. After coumarin came a whole series of synthetic fragrance chemicals including vanillin, quinolines, nitro musks, ionones and lactones. New components are still being developed, though current testing and approvals limits their introduction.
The main part of the book comprises about 1500 critical reviews of individual commercial perfumes by either Turin or Sanchez, which provide consumers with a guide to the perfume counter, and also make fascinating and amusing reading. The couple must have very finely tuned noses which can detect fragrance components lost on me. No punches are pulled as each perfume is critically analysed and given a star rating. There are about 85 classified as five-star masterpieces, about 350 as four-star recommended, about 550 as three-star adequate, about 350 as two-star disappointing and finally about 250 one-star awfuls.
It was gratifying to read that most of my wife's favourite perfumes, such as Angel (Thierry Mugler), Magie Noir (Lancome) and Loulou (Cacherel), were all given five stars. Obviously it was money well spent!
And what is Turin and Sanchez's favourite scent? Mitsouko by Guerlain.