Fiona Erskine
Point Blank
2019 | 432pp | £14.99
ISBN 9781786074928
Buy this book from Amazon.co.uk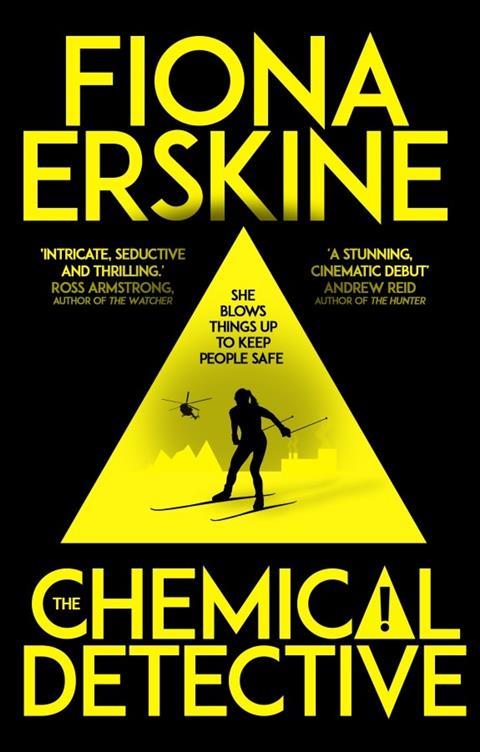 The Chemical Detective, a novel by real-life chemical engineer Fiona Erskine, has possibly the greatest tagline to a book ever: 'Dr Jaqueline Silver blows things up to keep people safe.'
Jaq Silver is an explosives expert working in avalanche control in the Slovenian Alps. She has a weak spot for athletic men who can sing, and she knows how to tickle a man to death.
In The Chemical Detective, Silver uncovers an international chemical smuggling operation and ends up being hunted, threatened and framed. She uses her scientific acumen to assess situations, whether it's calculating the horizontal travel to know it's safe to run off the edge of a cliff at a given velocity, or finding the safest part of a rock face to abseil down by observing the change in vegetation caused by variations in soil pH and therefore geology.
The story is fast-paced and exciting, but sometimes overly convoluted. In fact, I thought that Silver's 'Tardis' bag was a good metaphor for this book: Erskine lists 45 items found in Silver's backpack (including Vernier callipers, sandpaper, a fold-up kite, a catapult, first aid supplies and hot chocolate sachets…I could go on). The story is just as jam-packed (though come to think of it, jam is one of the few things not in Silver's bag). As the plot twists and turns, jumping from location to location, it can be difficult to keep track of all the characters with their various motivations and backstories.
Some of the character background is hinted at or implied rather than stated, which is confusing. For example, Silver's real surname is da Silva and she is originally from Portugal – which explains why her internal monologue is in Portuguese – but this isn't fully revealed until quite far into the story.
However, I really enjoyed the scientific aspects of the book – it's refreshing to see descriptions of the chemistry woven into the narrative seamlessly. And once I got into the story I was definitely engaged and rooting for Jaq.
In short, this is an action-packed thriller, with a strong female protagonist who thinks on her feet. It's fun, exciting and gave me many happy nerdy moments where rational thought and an understanding of chemistry saved the day.
This book features in our book club podcast, which you can listen to here.