Tanning chemistry. The science of leather
Tanning chemistry. The science of leather
Anthony Covington
Cambridge, UK: RSC Publishing 2009 | 483pp | ?69.95 (HB)
ISBN 9780854041701
Reviewed by Christine Powley-Williams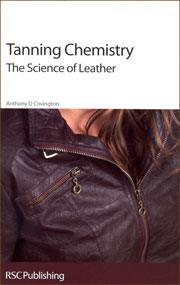 After waiting expectantly for a number of years, finally we have a comprehensive book detailing what is considered by many to be the 'black art' of leather manufacture. It was well worth the wait.
Tanning chemistry is well structured, clearly and concisely written, and will undoubtedly become a major reference book for any student embarking on a leather technology course. It will also prove to be an invaluable resource for every practical tanner or leather researcher.
Of particular merit is the manner in which the text has been written to incorporate both practical, commonly used industrial methods and also describes the more formal approach to carrying out the same task. An example of this is the explanation of how shrinkage temperature (Ts) is used as a measure of hydrothermal stability. In-house testing would rely on a simple boil test that can be carried out in a few minutes and is routinely used by technologists whereas the instrumental technique used in test laboratories would be differential scanning calorimetry (DSC). Both techniques are covered in detail.
In addition the author explains his new, and radical, theory on the mechanism of tanning: the concept of link-lock. This debunks established tanning theory that has been accepted since the early 1950s with the claim that all reactions that stabilise collagen conform to the link-lock model.
I only wish this book had been available when commencing my personal career in leather in 1982.