Charlotte Ashley-Roberts unearths a wealth of career opportunities for chemists moving into the insurance sector
Charlotte Ashley-Roberts unearths a wealth of career opportunities for chemists moving into the insurance sector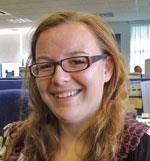 Q I have been wondering about a change in career, and someone mentioned there might be opportunities for chemists in the insurance sector. Do you know of jobs that combine chemistry with safety in the insurance sector? I've also heard about the possibility of developing a safety career in the area of transportation of chemicals
A I haven't met anyone who has transferred directly from chemistry into the insurance sector, but I have done some research and come across some roles that you might find interesting:
Insurance risk surveyor - Also known as risk consultants, risk control surveyors and risk control advisers. These positions are found within general insurance companies, brokers or firms of specialist surveyors. Their main role is to advise about risk, based on technical knowledge and good practice; this would fit into combining chemistry and safety within the insurance sector. You can find more information at the UK's official graduate careers website.
Dangerous goods safety adviser - In answer to your question about safety careers in chemical transportation, businesses that handle, process or transport dangerous goods on a regular basis must appoint a dangerous goods safety adviser (DGSA) in order to comply with the Health and Safety at Work Act 1974.
Trading standards officer - Although slightly different to what you are looking for, we have had members combine their knowledge of HSE (health, safety and environment) and chemistry and move into a trading standards role. Trading standards professionals act on behalf of consumers and businesses. They advise on and enforce laws that govern the way we buy, sell, rent and hire goods and services. To do this type of role you may have to re-train; you can find out more details on the Trading Standards website.
Health and safety adviser - As well as the more unusual roles you have asked about, there are roles in a variety of sectors and organisations from multinationals to small consultancies, and work in partnership with employers, employees, directors and trade unions. Most HSE specialists are responsible for ensuring that safety legislation is adhered to and that people use the policies and practices outlined by the HSE advisers.
If you are looking to transfer your career into a specific role make sure that you tailor your CV to the job description, highlighting your most relevant experience first and also any qualifications you may have such as the National Examination Board in Occupational Safety and Health (Nebosh) certificates or diploma.
If you don't have relevant experience in the HSE field I would consider looking at training and qualifications and highlight all the transferable skills you think are relevant to the position, again using the job description to help you.
Where to find these roles
Vacancies are advertised by careers services, specialist recruitment agencies, via the internet, in newspapers including The Financial Times and The London Evening Standard, and in publications such as Business Week, The London Financial News, Insurance Times, Post Magazine and Fire Prevention and Fire Engineers Journal.
Please also see web links below for further information.
If you know of anyone who works in a role you think might be interesting, see if you can set up some work shadowing or at least a meeting to talk to them about it and see how it might suit you. You could use social networking sites to find someone, for example on MyRSC or LinkedIn as well as looking at the RSC's interest groups.
You could also ask (or even look for careers at) some of the professional bodies themselves; see below for more details.
Finally, I would encourage you to keep your search as broad as possible so that you don't filter out the multitude of HSE roles available.
Further Reading
The Chartered Insurance Institute (CII)
The Association of Insurance and Risk Managers
The Association of British Insurers (ABI)
The Institute of Risk Management (IRM)
The Chemical Hazards Communication Society (CHCS)
Institution of Occupational Safety and Health (IOSH)
Institute of Environmental Management and Assessment (IEMA)