Charlotte Ashley-Roberts puts the work of analytical chemists under the microscope
Charlotte Ashley-Roberts puts the work of analytical chemists under the microscope
Q: I am in my final year of my degree and I am really interested in forensic chemistry, particularly the techniques that are used to identify chemicals and to test samples. I also know that forensics is difficult to
get into. Are there similar roles in other areas that use the same techniques and skills?
A: Many of the methods used in forensic chemistry come from analytical chemistry and include techniques such as chromatography [eg high performance liquid chromatography (HPLC), gas chromatography (GC)] and spectroscopy [eg nuclear magnetic resonance (NMR), infrared (IR) and ultraviolet (UV)]. Mass spectrometry is also widely used and there are many others. Analytical chemistry is a highly diverse area and covers sectors such as forensics, environmental science, pharmaceuticals, oil and gas as well as food, agriculture, biotechnology and much more. In fact, there are very few, if any, areas of the chemical science industry that don't routinely make use of analytical techniques.
Anatomy of analysis
Within a particular sector, analytical chemistry will be used in different ways for different purposes but, overall, the aim of analytical chemistry is to identify what a given substance is and to understand how it behaves under different conditions. As an analytical chemist, you can work in areas such as validation, quality control, drug development, general analysis and process development.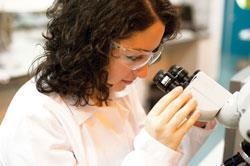 Depending on the company you end up working for, you may specialise in a certain area of analysis (eg HPLC techniques), or you may do a little bit of every technique. You will usually have to interpret the results to draw conclusions and also write these up in the form of reports. You may get the opportunity to go out and meet with external clients who are making use of the data you provide.
Analytical chemists tend to work closely with other departments and there are often opportunities to progress into other departments or move up the ladder if you wish to. At first, when you start working in an analytical position, it is likely your role will be mostly lab based but as you progress, the role tends to become more office based.
Starting points
Due to the widespread use of analytical techniques, analytical chemists are employed by government, universities and industry both within research and outside it. So a job in analytical chemistry will give you lots of options and it's therefore worth considering a few questions before you graduate:
Would you like to work in a lab or in an office?

Do you have any experience? If not, do you know where to find some?

What area/sector of chemistry would you like to work in?

Do you want to work in research?
This will help determine where you look and what kind of companies you apply to.
When you come to apply for jobs, you will need to show any experience you have. You don't say what your degree is in but if you have used any analytical techniques as part of your degree then you should already have some of the skills required to work in the industry. If your course has only covered these techniques theoretically, you will need to find some practical experience. You might find this through work shadowing, part-time, holiday or contract positions. Some companies will offer training in the relevant techniques so you may also find that you are able to get a job based on your theoretical knowledge straight away; it will depend on the company.
It would also be worth joining one of the RSC's many interest groups. We have over 20 interest groups, which specialise in most of the different variations in chemistry or there is the RSC's analytical division, which looks at analytical chemistry as a whole. All of these will help you meet people in the field that interests you so you can find out more about the science, the companies, the jobs and people who do them.
You can find out more about analytical chemistry jobs on our MyRSC site, where you can view videos on different people talking about their jobs. Or if you want to talk to us about your situation in more detail then you can contact the careers team directly.