Scientific instrument manufacturer Bruker has come a long way in 50 years, discovers Matt Brown
Scientific instrument manufacturer Bruker has come a long way in 50 years, discovers Matt Brown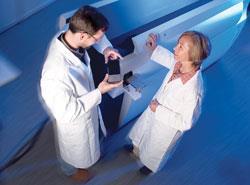 50 years ago this September, Bruker Physik-AG began trading in Karlsruhe, Germany. It was a humble beginning. Company co-founders G?nther Laukien and Emil Bruker used the back yard of a private residence as their first operational base, selling nuclear magnetic resonance (NMR) components into a rapidly growing market. Various mergers, acquisitions and half a century of growth later, Bruker, as the company is now known, is one of the world's leading suppliers of analytical technology, employing some 4000 people at over 90 locations around the world.
The Laukien family still plays a leading role in running the company, which is a major employer of chemists. There are plenty of roles from sales and applications, to R&D, service and support work. With a product range that includes technologies as diverse as NMR, mass spectrometry (MS), infrared (IR) and x-ray analysis, specialists in many subdisciplines are required. Bruker recruits from all research areas depending on the needs at that time, and takes on staff from graduate, postgraduate and postdoctoral levels.
Broad customer base
Sandra van Meurs joined the company in late 2005, after a number of years working as a research chemist in the biotech industry. Before that, she obtained a degree in chemistry with German and a PhD in organic supramolecular chemistry. She now works as a sales and applications scientist for Bruker's NMR product line. A large part of her role is meeting customers and training them to use Bruker's NMR products. 'The customer base is wonderfully varied and experienced, giving a great overview of what is going on in the scientific community,' she says.
van Meurs never had a career plan to leave the organic chemistry lab and become an NMR product specialist, but grabbed the opportunity when it arose. 'You never know when a sideways career move might be necessary or desirable - particularly in the current climate!' she says. 'All scientists, no matter how experienced or specialised in a certain field, have a wealth of transferable skills, though it may sometimes take a bit of lateral thinking on how you can apply these to an opportunity for which you may not have the direct training.'
From customer to vendor
van Meurs was attracted to the company from her experiences as a customer. 'Bruker has a high proportion of long-serving team members, which indicated to me that it must be a good place to work - people look around for other opportunities if it's not.' Since switching from customer to vendor she's never looked back: 'working here, I feel there is a tremendous amount of freedom and trust in the employees to perform their duties. As in any business, we have objectives and targets to meet to ensure we're all pulling in the same direction, but we're encouraged to use our own initiative in meeting these.'
Jeremy Lea is managing director of Bruker UK, with responsibility for its product groups in the UK. He came from a chemistry background, with a degree in biochemistry and a PhD in radiation chemistry of DNA. He joined Bruker in 1989 as an applications scientist working on electron spin resonance (ESR) products. Having worked in all divisions at one time or another he became managing director in January this year.
Variety
'No 2 days have ever been the same in the better part of 20 years involvement with the company,' he says. 'Working at Bruker gives any scientist the benefit of seeing new technology come to the market and influencing our instrument development.'
The structure
Those new technologies are grouped into four scientific instrument divisions within Bruker. Bruker AXS provides x-ray technologies, Bruker BioSpin makes magnetic resonance instruments (NMR and ESR), Bruker Daltonics provides MS tools, and Bruker Optics manages IR and Raman instruments. A separate division, Bruker Energy and Supercon Technologies, explores advanced materials and superconductors.
'The challenge now,' says Lea, 'is to maintain Bruker's high reputation for service and support and to carry on being the provider of high quality cutting-edge solutions to our ever expanding applications fields. Continuing to be an integral part of scientific research and applications work in the UK remains a key issue for Bruker.'
Matt Brown