Victoria Gill speaks to young scientists at Shell's Global Solutions Technology Centre in Cheshire, UK
Victoria Gill speaks to young scientists at Shell's Global Solutions Technology Centre in Cheshire, UK
When the price of crude oil crashed to around $10 a barrel in the late 1980s, Anglo-Dutch oil giant Shell faced the crisis by commercialising its R&D. The eventual result was Shell Global Solutions - which celebrates its 10th anniversary this year.
'It was a bold move,' says Ian Taylor, lubrication science technology manager at Shell Global Solutions. 'The company provided initial investment, and we have now grown to have a staff of over 5000. And 2000 of those work specifically in R&D. We're continuing to grow and recruit scientists and postgraduate students into industrial experience programmes.'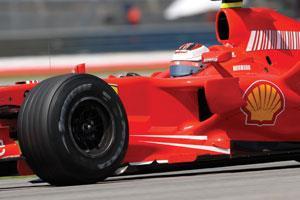 One of its hubs is the Shell Technology Centre, near Chester, UK. Trevor Davies, from Shell's fuel technologies group, has been working there since 2005. His work focuses on developing more efficient and cleaner fuels.
'There have been huge improvements in fuels over the last five years,' says Davies, whose group helped develop the fuel for the first diesel car to win the Le Mans 24-hour race in 2006.
New fuels for new engines
Davies knows that his own fuel development research will go directly into the market. 'It's a great position to be in,' he says. 'Because of the company's partnerships with car manufacturers, we can optimise the next generation of fuel in the next generation of engine.'
Lubricants scientist Emma Wyatt joined Shell in 2007 following a PhD in synthetic organic chemistry. She now works on the development of more 'environmentally considerate' lubricants and is closely involved in a new product range called Shell Naturelle - products specifically designed for environmentally sensitive applications such as forestry equipment.
'Lubricants contain a lot of esters, and by studying the structures of these compounds, we're aiming to understand why some structures are biodegradable and others are not,' she explains. 'That way we can design better products.'
As regulations tighten, Shell must continuously modify its own lubricants, cutting down particularly on the levels of zinc, phosphorous and sulfur in many of the base oils. 'The energy industry is facing so many challenges, and there is a role for chemistry as a key tool in overcoming them,' says Wyatt. 'There's a huge impetus on R&D at Shell, and it's good to be somewhere where you can see science making a difference.'
Analytical scientist Damir Blazina sits in his laboratory surrounded by pieces of formula one racing cars. The technology centre is also home to Shell's formula one research group - developing and supplying fuels and lubricants to the Ferrari team.
(Davies's own commercial fuel development is linked to the racing fuels, because F1 rules stipulate that the petrol that fuels the 200mph machines must be almost identical to what is sold in petrol stations).
In his lab, Blazina uses optical and electron microscopy to analyse deposits on anything from a fuel injector to sections of factory pipe and even pieces of roof. 'It's problem-solving for industry,' he explains. 'Customers come to us with a deposit that might be blocking a pipe, for example, and we tell them what it is, so they can work out how to eliminate it.'
Out of the box
Blazina's PhD is in NMR spectroscopy. 'Here, if I want to do something new, there are mechanisms in place for me to do that - I'm not put into a box, which can be the case in academia,' he says.
The job also allowed him and his wife to live together after many years apart pursuing their respective academic careers. The couple are one of many that are affectionately referred to as 'Shell families'. 'That's one of the unspoken benefits of a global industry,' Blazina smiles.
For Chris Paddon, a new arrival at the technology centre, this was the only industry job he was interested in. 'I was looking for variety - rather than just being in the lab every day, and this has fulfilled all my expectations,' he says. Paddon joined Shell Global Solutions last year and is in the midst of designing a new experimental rig to test the oxidative stability of oils.
'At the moment, the test systems simply heat the oil over a long period, but I'm putting together a set-up that can operate at a number of different temperatures, and where conditions within an engine, such as moving parts, can be simulated. This is about applying what I know to everyday problems,' says Paddon.
As well as designing novel testing equipment and working in the lab, Paddon has been asked to help design a virtual reality set-up for exhibitions that communicates how industrial machinery works.
'It will allow people to sense how engines work - holding a lever and seeing a virtual piston going up and down,' he says.
'People here are so enthusiastic about what they do,' adds Wyatt. 'We have an aviation fuels researcher who has his pilot's license, and a researcher working on lubricants for motorbikes who loves motor sport . it's about being involved in science on the front line - using chemistry as a tool to make an impact in the real world.'