Revolymer's expertise in polymer chemistry has brought non-stick, biodegradable chewing gum to the mass market as Hayley Birch discovers
Revolymer's expertise in polymer chemistry has brought non-stick, biodegradable chewing gum to the mass market as Hayley Birch discovers
Polymer chemists at Revolymer, just inside the Welsh border, near Chester, UK, have spent the last few years creating, testing and marketing a new kind of chewing gum. One that doesn't stick to your clothes, or to the pavement. Now in thousands of stores across the US, Rev7 biodegradable chewing gum is set to hit Europe in mid 2012. But the team at Revolymer aren't stopping there - based on the same technology, nicotine and dental gums are on the way, and cosmetics look set
to follow.
Starting as a university spin-out, Revolymer is now a company with 40 staff and a whole raft of clever applications for its amphiphilic polymers. The chewing gum, originally developed by polymer chemist Terry Cosgrove in his lab at the University of Bristol, UK, is based on a comb-structured copolymer containing water-soluble poly(ethylene glycol) attached to an oil-soluble polyisoprene chain (Chemistry World, October 2010, p4). This clever combination of properties gives the gum its unique non-stick appeal and, unlike other chewing gum, Rev7 can also absorb water, which helps it degrade.
As it turns out, this ability to retain water also results in a longer lasting flavour and chew - two aspects that emerged from tasting panels. In the company's nicotine gum, only commercialised in Canada so far, the polymers also help release nicotine more slowly. 'What we discovered was that the same polymer interacts with all sorts of other materials, including nicotine, so it can act as a way of controlling the delivery,' says Cosgrove. 'So that's just built straight onto the chemistry we already had.'
Profitable polymers
It was the versatility of Cosgrove's polymers that piqued the interest of Roger Pettman, now chief executive, back in 2004. A mutual contact at the University of Bristol put the two in touch and, by spooky coincidence, both happened to be in Florida at the same time, where they met for lunch. Pettman, an organic chemist by training with an impressive background in commercialisation technology, immediately saw the potential and took the lead in setting up the business.
'Roger Pettman's really brought this whole team of people together,' says Cosgrove. 'A lot of academics that I come across trying to set up their own companies are trying to do it on their own and it's a mistake - you need a real professional.' Pettman had spent 12 years with Shell as business development manager for fine chemicals and co-founded ChiRex, which was bought by speciality chemicals company Rhodia for $550 million (?350 million) in 2000.
Under Pettman's leadership, Revolymer garnered support from the Welsh government. For his part, Pettman says being able to pitch a portfolio of different applications made for an attractive investment. 'I think people liked the fact that it was a portfolio approach; if one [application area] didn't work then there were others down the line without huge hurdles on the regulatory side,' he says.
Expanding the brand
According to Pettman, Revolymer is currently in a consolidation phase, focusing on generating revenue from the sale of Rev7 and, in the short term, becoming profitable. But there's also an active pipeline. Future products include a range of moisture-retaining lipsticks and lip balms, and one of the company's younger chemists, Rob Finch, is working on the commercialisation of a new gum designed to deal with the unpleasant problem of bad breath.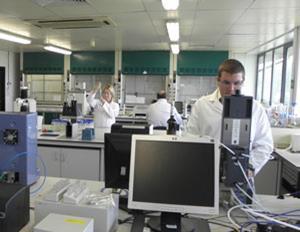 'It's basically an anti-halitosis gum. It's got these proteins that combat the bacteria in your mouth that produce the volatile sulfur compounds that cause bad breath. So I've taken a product management role on that, and it's about bringing together the R&D side, the commercial side, as well as making sure it meets all the regulatory aspects,' says Finch. Fresh out of a chemistry degree at the University of Manchester, UK, Finch is on a steep learning curve when it comes to business, he says, but relishing the opportunity to get stuck in.
Cosgrove has learned a few things about business too. 'All my research in the last 30 years has been supported by industry in one way or another, but this is right at the coalface and that's been a wake up call,' he says. 'If you do research with a big company, you can be a small cog helping a project along, whereas with a small company, you've got to be selling something quickly to keep in business.' As chief scientific officer, his job is now akin to being a consultant. Although he still works part-time in his academic role in Bristol, he's proud to have seen Revolymer's success in transitioning from a university company to a fully fledged commercial endeavour.
Hayley Birch is a science writer based in Bristol, UK