Bakery beginners Ann Gardiner and Kerri Elston talk to Yfke Hager about leaving the lab to create chemistry in the kitchen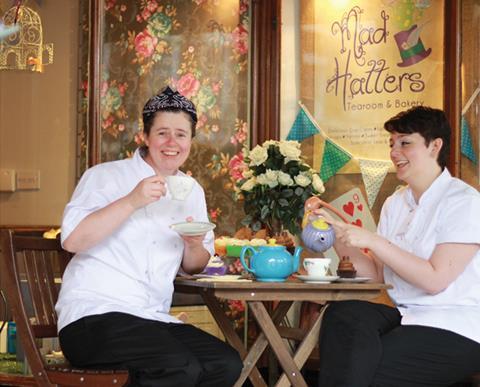 Four years ago, Ann Gardiner and Kerri Elston were averaging four hours' sleep a night. By day, they worked as chemists in an environmental forensic testing laboratory, but at night they were renovating a 400-year-old listed rectory in Chester, UK, to transform it into a tearoom. 'There were bare bricks on some of the walls and wiring was hanging down everywhere,' recalls Elston, 'but we had a vision, and nothing was going to stop us.'
Mad Hatters Tearoom and Bakery eventually opened its doors to the public in April 2011, and Gardiner and Elston haven't looked back.
Growing up in a family of bakers, Gardiner knew that she would eventually steer her career towards baking. But she took a rather unusual route: a decade-long detour via research laboratories. She started out as a laboratory technician and analyst at Robertsons Research Laboratory in Llandudno, North Wales and later moved to AlControl Laboratories in Hawarden, north Wales. It was while working at AlControl that she first met Elston, who joined the company in 2004.
In 2007, Jim Jones, technical director at AlControl, decided to set up a new environmental testing laboratory offering bespoke forensic services. He invited Gardiner and Elston to join him, and the pair took the plunge.
At Jones Environmental Forensics, they formed part of the original team of just three analysts, setting up various analytical and extraction laboratories suitable for soil, water, gas and oil samples. 'We worked all hours, but it was worth it,' says Gardiner. 'We really felt a sense of co-ownership.'
Time for tea
The experience whet their appetite for entrepreneurship. 'It inspired us to follow our dream and set up our own business,' explains Gardiner. By the time she and Elston left to set up Mad Hatters, Jones Environmental Forensics had grown to 50 staff. 'We had learned a lot during our time there and the business was doing well, but it was time to take on a new challenge,' says Elston.
Perhaps surprisingly, the transition from lab to bakery was smoother than they expected. 'Setting up laboratories turned out to be excellent training for setting up a catering establishment,' Gardiner says. The organisational and financial skills they had learned helped them put their business plan into action, while the method development experience they had gained through devising bespoke forensic testing methods for their clients came in handy when crafting and refining their recipes.
Elston suggests that their scientific training may actually give them an edge when it comes to experimentation in the kitchen. 'We're always testing out and improving our recipes, and an understanding of the chemistry of the ingredients really helps,' she explains. 'For example, understanding how sugar reacts at different temperatures, or how to temper chocolate to get a nice gloss.' Everything is done with precision, adds Gardiner. 'Our staff initially thought we were neurotic,' she laughs, 'but now they work just as precisely as we do.'
Let them eat cake
The results appear to be hitting the spot with hungry customers – and the national media. Mad Hatters has already won several local awards, including Chester's favourite café, and Gardiner and Elston were finalists at the National Cupcake Championship 2013, judged by Mary Berry and John Whaite (from the television series Great British bake off). Mad Hatters was also among the top 60 bakeries that took part in ITV's Britain's best bakery, and featured in an episode about afternoon tea for Heston Blumenthal's new series Great British food.
Gardiner and Elston admit that it's been hard work, but they don't have any regrets. 'The tearoom took off straight away, so we've had no time to catch our breath,' says Gardiner. 'We were in shock during the first year,' adds Elston. Their continued success has meant expansion to new premises, with a second bakery opening in August 2013, where customers can take baking and decorating classes. 'We still do all the baking ourselves,' says Gardiner, but she and Elston plan to take on an apprentice soon. 'We would certainly consider any chemists who apply for the job!' she laughs.