Kathryn Nesbitt left her professor post to bring her problem-solving skills to the pitch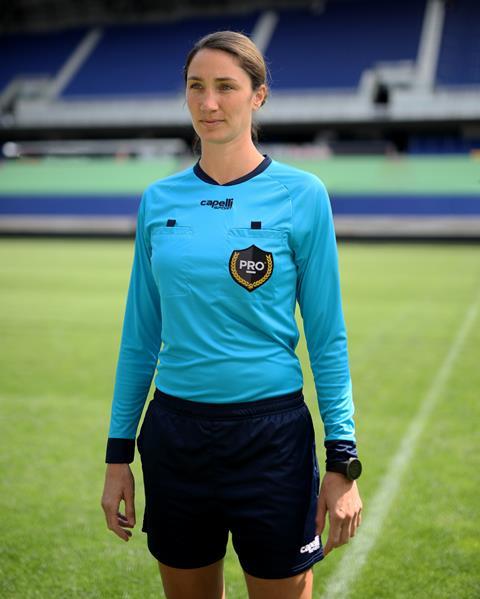 Most of the world was at a standstill last year due to the Covid-19 pandemic and the lockdown it brought, but US-based analytical chemist Kathryn Nesbitt, who had recently left academia to pursue a career as a professional soccer referee, thrived. In November, Nesbitt became the first woman ever to be named the US's Major League Soccer (MLS) Assistant Referee of the Year, and the following month she became the first woman to referee a championship match in professional men's sports in North America.
Growing up in Rochester, New York, Nesbitt began refereeing at just 14 years old. That was only a few years before she fell in love with chemistry, thanks almost entirely to an amazing high school teacher. Ultimately, she earned an undergraduate degree in chemistry from Saint John Fisher College in Rochester in 2010, continuing to referee soccer throughout her time there.
After graduation, Nesbitt immediately moved on to the University of Pittsburgh and earned a PhD in chemistry in 2015 – the same year she started working in Major League Soccer. Then, after a two-year postdoctoral fellowship at the University of Michigan, she was hired as an assistant chemistry professor at Towson University in Maryland in August 2017.
'It is a pretty big university, definitely more focused on teaching, but I did have a research lab there as well, where I had undergraduates working with me,' Nesbitt recalls. Her research focused on improving techniques for sampling brain chemicals via microdialysis.
Ultimately, she decided in 2019 to leave Towson to focus on refereeing. The catalyst for that decision was an opportunity to officiate the FIFA Women's World Cup that was held in France that June.
A difficult decision
'Leaving chemistry was a really, really difficult decision for me – I absolutely loved my job at Towson,' she recounts. 'It is a lot to be an assistant professor on a tenure track, and it is also a lot to be refereeing soccer internationally at one of the top levels, and I just wanted to see what would happen if I managed one thing at a time.'
Being chosen to officiate the World Cup showed Nesbitt that she was able to do big things in refereeing. 'I didn't want that to be my final cap in refereeing, I wanted to do more,' she says. Specifically, Nesbitt's eye was on the professional men's game. 'There can be more professional opportunities on the men's side of things,' she explains.
But the timing of her departure from academia was challenging – Covid-19 hit the world about a year after she left Towson and essentially shut down everything, including sports, in the US and worldwide.
'This was really hard for me to stomach,' she says. 'I had made this decision to focus on refereeing and then couldn't.' But luckily, US professional soccer started back up in July 2020 with a bubbled tournament in Orlando, Florida. An entire Disney resort was reserved to house the players, referees and coaches. They stayed in that protective environment for 50 days and couldn't leave, being tested for the virus every other day and required to wear masks.
An eye on the Olympics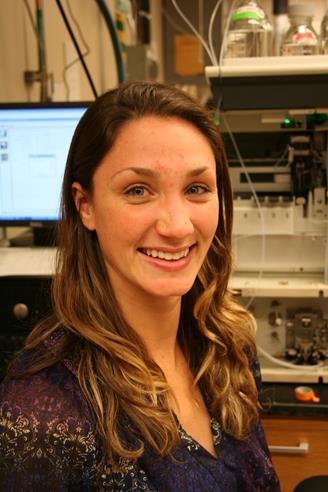 Analytical chemistry was good preparation for a refereeing career, according to Nesbitt. 'All the years of chemistry, and all my training in that, has really helped me on the problem-solving side of things,' she says. 'In terms of making decisions on the soccer field, we often have to think about a variety of different components to get some more difficult decisions correct.'
Her next major ambition is to referee at the Olympics. 'I have always had the aspiration to make it to the Olympics in some fashion, so that would mean a lot to me,' she says.
Nesbitt wants to continue to referee bigger and better games and break through barriers for women in officiating professional sports. But she misses chemistry and has every intention of returning to it eventually.
'Even though it may look like I have chosen a different career, the ultimate goal is to go back to chemistry research and teaching,' she says. But Nesbitt realises that could be difficult. 'I recognise that I might have to start at a different place, and that's okay with me,' she tells Chemistry World. 'I will figure that out when I get there.'
In the meantime, Nesbitt keeps up with the chemistry literature, and has even managed to publish a couple of papers in since leaving academia, based on work tied up after her departure.
'It is important to me to have that piece of me stay relevant,' she says. 'We will have to see how it goes these next couple of years because I do have big dreams in the refereeing world but don't want to lose my other passion as well.'