Conferences and caring responsibilities need not be incompatible
Heading to far flung locations for a few days might seem like a welcome break from your bench or desk, but participating in the conference circuit can be vital to progressing through the ranks of academia. For those with children or dependants to look after, this can mean making a choice between career and family.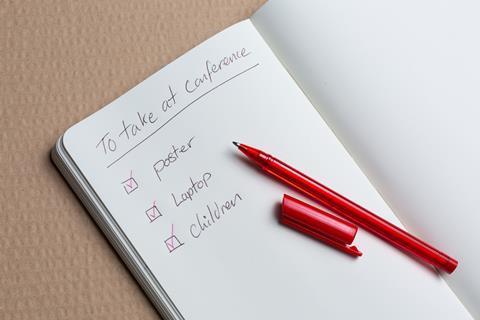 Many big research projects and international collaborations begin with people meeting at a conference, explains Emily Henderson, an education studies professor at the University of Warwick, UK. 'If you're missing out on conferences, you're potentially missing out on all of the indirect benefits that accrue from participating in them.'
Juggling work travel with home life responsibilities is a significant challenge for many. Early career researchers in particular often balance complicated childcare logistics with a need to be out and about building up a network. In addition, one in eight adults care for family and friends with illnesses or disabilities, according to the charity Carers UK.
'People do some really intensive life acrobatics to get to conferences,' Henderson notes. Awareness of this issue is increasing, in part due to a broad shift towards acknowledging that – as the burden of care is often higher for women – care responsibilities contribute to science's 'leaky pipeline'.
Some chemistry conferences, institutions, funding bodies and professional societies have taken action, but there is still much that could improve.
Kids that camp
Some of the larger chemistry conferences arrange onsite childcare. The American Chemical Society (ACS) has offered complementary childcare at its twice yearly national meetings for over a decade. 'Known as Camp ACS, this programme offers safe and creative childcare for potty-trained two year olds through to 14 year olds,' says Robin Preston, director of meeting operations at the ACS. 'Activities on offer include arts and craft projects, special guests and digital media activities.'
'We offered to take the kids to Disney World one day, and their response was that they'd prefer to go to ACS Camp!'

Abigail Shelton, University of Tennessee at Martin
The camp runs each day of the meetings, from 7am to 6pm. 'It's very flexible, you can check in and check out your kids as you need,' explains Abigail Shelton, a chemistry professor at the University of Tennessee at Martin, US. Three of her children – aged three to seven – attended Camp ACS at the 2019 spring national meeting in Florida. Shelton says they enjoyed the experience: 'we offered to take the kids to Disney World one day, and their response was that they'd prefer to go to ACS Camp!'
Only a small proportion of meeting attendees typically use this facility. 'For the most recent national meetings, ACS Camp enrolment has ranged from a low of 35 children to a high of 80,' says Preston. For comparison, each of these conferences typically has around 15,000 participants.
It's a similar story at Pittcon, the annual meeting organised by the Pittsburgh Conference on Analytical Chemistry and Applied Spectroscopy. Over 10,000 participants typically attend this meeting, with between 10 and 30 children at its onsite childcare – Camp Pittcon. 'Numbers vary depending on what city we are in,' explains Julie Theys, Camp Pittcon organiser.
Attendees must pay to use Camp Pittcon, which runs from 7.30am to 5.30pm throughout the conference and offers a mixture of games, crafts and movies to children six months old and up. Children aged over six years also attend one day of Pittcon Science Week, a school outreach programme that runs alongside the convention. 'Teachers bring their classes and spend a morning doing science procedures,' explains Theys.
Theys says that Camp Pittcon is both flexible and inclusive. Mandarin and Spanish speaking carers are available on request and the camp can also accommodate children and adults with additional needs.
Have baby, can travel
Pittcon also provides a lactation room next to the camp. 'We have a piped, draped booth, with chairs, couch and a table for a mother if she wants to breast feed,' says Theys. Pumped breast milk can be stored in the camp refrigerator.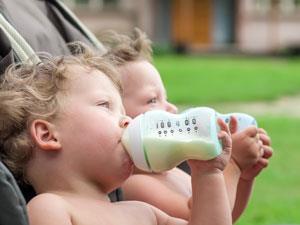 This year, the ACS national meetings introduced further provisions for parents and carers. 'They have rooms that are designated as a nursing room if you need to nurse or bottle feed. Then, they have rooms that are set up for diapering with rocking chairs in them and some [travel cots] for if the little ones need to take a nap,' explains Shelton. 'The meetings aren't always close enough to the hotel that you can easily take them back for a nap.'
Shelton took her own one year old daughter to the most recent national meeting. She was too young for Camp ACS, so Shelton and her husband – a fellow chemistry professor – juggled her care between them. 'We sat down and figured out what talks and presentations we were each attending or participating with every day, and we swapped in and out of sessions a lot,' she says.
Children after hours
Award ceremonies, networking events and poster sessions often take place after hours at chemistry conferences. 'At night, we had to pick who was on childcare duty and who was at the meeting,' says Shelton. 'My husband mostly got the short end of the stick!'
Some chemists choose to involve older children in some of the after-hours conference activities. David Smith, a chemistry professor at the University of York, UK, is taking his six year old to his first chemistry conference this August – ACS San Diego. He will attend Camp ACS and 'outside of that anything I do will involve him,' explains Smith. 'He will probably happily wander round the expo or a poster session and there may be informal dinners or receptions where others don't mind a six year old coming along.'
Travelling with a poster tube under one arm and a kid under the other is nearly always more expensive than travelling alone
Conference attendees and their families can also attend the ACS outreach event that runs the day before each national meeting. 'This event is held at science museums, science centres or other public venues. Hundreds of parents and children from the local area take part in hands-on science activities led by ACS staff and members,' explains Preston.
More conferences should offer enriching activities such as these, thinks Jennie Sweet-Cushman from Chatham University in Pittsburgh, US. As a political science professor who researches how to make conferences more family-friendly, Sweet-Cushman proposes that meetings should do more to actively encourage attendees to bring their families. Her suggestions include 'providing a reception where both scholars and their families are mingling so that the culture of the conference is itself family-friendly.'
Money, money, money
Finances are a significant consideration when deciding whether or not to take children to conferences. Travelling with a poster tube under one arm and a kid under the other is nearly always more expensive than travelling alone.
And it's not just transport costs. 'In general, accommodation when you're travelling with a child costs more,' explains Kristy Turner, a school teacher fellow at the University of Manchester and Bolton School, UK. Turner has taken her six year old to many UK-based conferences, with her mum often coming as well to help with childcare. 'A number of UK universities won't allow under 16s in their accommodation and this has meant I have to arrange alternate accommodation, usually at extra cost.'
Both Shelton and Turner have always covered these costs themselves. 'It can be difficult to claim back these additional costs, as the places you claim from – funding bodies or employers – are generally allocating funds based on one person travelling and a single hotel room,' explains Turner.
The tide appears to be slowly turning here. 'Some individual institutions – academic departments, colleges, research institutes – do provide some form of grant [to cover additional caring costs associated with travel],' says Laura Norton, senior programme manager for inclusion and diversity at the Royal Society of Chemistry (RSC). Some funding bodies and professional societies also offer funds for this purpose.
The Engineering and Physical Sciences Research Council (EPSRC), for example, will reimburse additional care costs associated with participation in EPSRC activities. Child travel costs during work travel, and additional care provision at home (if their dependant does not travel with them), can also sometimes be claimed through EPSRC research grants.
This is how Smith will fund his son's ACS San Diego trip. 'The EPSRC [that funds one of my current grants] stipulates that child travel expenses can be covered where they are essential for attendance at a conference. I was pleased that my university agreed that they would allow the expenses because external funding was available,' he says.
Institute of Physics members can apply for £250 carers' grants from the society. And in May 2019, the RSC launched a grant for carers, open to applications from any UK or Ireland-based chemist and international RSC members. 'Applicants can apply for up to £1000 per year to assist with additional financial costs that they incur for care they usually provide whilst attending a chemistry-related meeting, conference, workshop or professional development event,' explains Norton.
The new grant, supported by the RSC's Chemists' Community Fund, will cover any type of additional caring costs. 'We aren't being prescriptive about what these may be, as caring is so wide and varied,' says Norton. For example, the funds can cover additional nursing care needed for a dependant in your absence, extended childminder hours to allow you to return home late, or travel expenses for a relative to accompany you to a meeting to care for your dependants. Multiple meetings can be funded per year provided the overall annual amount requested is no more than £1000.
Turner was awarded an RSC grant for carers to cover the additional travel and accommodation costs associated with taking her daughter to the Variety in Chemistry Education/Physics Higher Education conference in Bristol in August. 'The grant was incredibly easy to apply for, which was refreshing,' she says.
Family-friendly conference planning
Planning a family-friendly conference or meeting need not be too expensive, reassures Sweet-Cushman. Contracting in childcare providers that attendees can use for a fee, and providing parent-baby rooms, milk storage and shipping facilities are all inexpensive touches. And many of the most helpful actions are free.
Family-relevant information should be 'available on the conference website so that if scholars were thinking about bringing their family they can see what sort of amenities the conference hotel has, what the rates are for childcare or what activities are available in the area for families', says Sweet-Cushman. 'You should also advertise the programme as far in advance as possible so that people can plan around it,' adds Henderson.
To help attendees who can't bring their families, Sweet-Cushman recommends conference organisers look into their scheduling. 'Are there ways to block off scholars into certain days so that they're not having to be there the entire time and can get back to their families?' she says. Enabling people to participate remotely should also be considered. Changes such as these will help to ensure scientists no longer feel tension between care and career.