Andrea Sella is blowing the trumpet for chemistry, charming children and adults alike, as Nina Notman finds out
Andrea Sella is a man on a mission. But unlike other academics at top universities, that mission isn't to make a big scientific breakthrough (although that would be nice), but to spread the word of science to all. Sella is one of the UK's loudest chemistry cheerleaders, dedicating more than half his working time to science communication activities and teaching, with the smaller proportion of his time spent on his own research.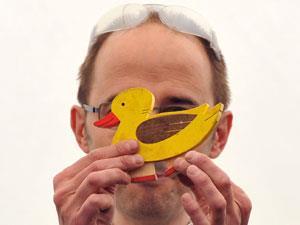 Sella's academic career started in the usual way: an undergraduate degree, followed by a DPhil and postdoc at the University of Oxford, UK, focusing on lanthanide organometallic chemistry. But during his postdoc Sella would also do 'small chemistry shows' for people on tours of the department and got an inkling that communicating science was something he might be good at.
When he moved to University College London (UCL) to become a chemistry lecturer in 1990, communicating science to the public was an important part of his role from the very beginning. 'UCL chemistry was actually in very bad shape in terms of [undergraduate] recruitment,' he recalls. 'I was asked whether I had any views on what the department could do, so I started going out to schools and inviting schools into the department.' This technique clearly worked and UCL now has a thriving chemistry department. 'From there came some involvement in television work, invitations to more schools and so on,' Sella continues.
As his research interests evolved into material science, his profile as a science communicator grew and grew. In 2007, he was awarded a senior media fellowship by the Engineering and Physical Sciences Research Council. These fellowships enable academics to take time out from teaching and administrative responsibilities to devote time to developing a media profile. 'The fellowship gave me the space to go looking for stuff. And I've been involved in an awful lot of different projects as a result,' says Sella.
Festival fever
One of the key projects was his involvement with the Cheltenham Science Festival. This annual, week-long event is one of the UK's leading science festivals and was a formative experience, says Sella. 'I have been involved in an incredible range of things [at this festival]. The chemistry of coffee, to the science of honey or cocktails, all of those are tremendous vehicles for talking about basic chemistry.' And it isn't just about the showmanship. 'I was invited onto the scientific advisory board, and that has provided me with an incredible network of friends and people to talk to; to bounce ideas off.'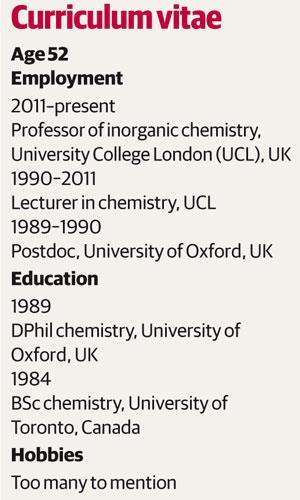 Another pet project of Sella's is primary school outreach. 'I think this is incredibly underrated,' he says. 'Most people that go into science – go into music; go into any subject – feel that the light came on for them really quite early. Trying to get students to go into science when you are talking to them at 16 or 17 is too late. Intervention has to be much earlier.
'I have been running a primary school science club for the past few years, where undergraduate students go into primary schools and do science related activities.' As well as providing role models for young children, he hopes this project will also encourage more chemistry university students to become primary school teachers. 'Becoming a primary school science teacher is one of the most incredible things you can do in your life because you are really at the stage of forming minds.'
On the box
Sella has also made a name for himself as an expert adviser for science programmes. 'I am constantly approached by TV companies wanting help or advice for how to do stuff. A few years ago I was approached about the one really proper chemistry series – Chemistry: A Volatile History,' says Sella. 'That was an absolutely incredible opportunity, and a real challenge. Jim Al-Khalili was a fantastic presenter and I think the story really came across in an exciting way. The remarkable thing is how many people watched. It was, at the time, the most watched science series on BBC4.' Sella is also helping on Al-Khalili's next TV project: a two-part series on entropy. 'I think it is going to be absolutely stunning,' he beams.
Sella has his fingers in many pies, including writing Chemistry World's Classic kit column each month, and through this has built up an exciting career sideline as a science spokesperson. 'There is an appetite out there for explaining chemistry,' he says. And it seems that Sella is the man to satisfy it.