Stephen Batchelor really can help you achieve a 'whiter wash'. With over 70 patents, he is one of Unilever's top inventors. Manisha Lalloo discovers what inspires him
Stephen Batchelor really can help you achieve a 'whiter wash'. With over 70 patents, he is one of Unilever's top inventors. Manisha Lalloo discovers what inspires him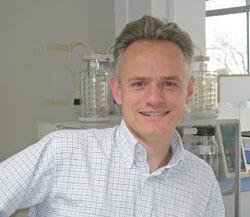 Stephen Batchelor's interest in chemistry began at school. 'I had a very good teacher called Mr Thompson who was very energetic and enthusiastic about chemistry and about what it can do to improve the world.' Mr Thompson's words stuck and now, as science leader in colour chemistry at Unilever, Batchelor's research reaches consumers across the globe.
Batchelor's career started at university in Oxford. 'That's really when I got interested in doing experiments. When you get into the lab and you do it every day all day you find it quite fun!' He completed a DPhil in radical chemistry, and used the opportunity to see a bit more of the world. 'Every year I went inter-railing round Europe going to conferences, though it would often take me two or three weeks to get to them stopping off at every beautiful city in Europe!'
Encouraged by the idea of living in a different country, Batchelor took up a post-doctoral position at the Free University of Berlin, Germany, studying the process of photosynthesis. This was followed by a post at Z?rich University, Switzerland, where he worked on polymerisation and gas-phase radical reactions, whose applications included CD coatings and pyrolysis.
After three years enjoying the mountains of Switzerland, Batchelor started looking for a permanent job. Faced with a number of different choices he decided to make the move into industry. He took up a position as a scientist at Unilever, based at Port Sunlight, in the north west of England, where he remains today.
Whiter than white
At Unilever, Batchelor joined the team working on dyes, fluorescers and bleaches. He began work as a scientist where his responsibility was to understand and solve consumer problems in laundry. Although he came from a strong academic background, he found the transition to industry straightforward. 'I think excellent science is required in both,' he says. 'But the end points are different. If you're an academic it's all about papers and in industry it's about products and patents.'
Batchelor progressed from scientist to project leader, where he led and delivered projects for the company for three years. But after that time Batchelor wanted to concentrate more on science. Unilever offered him a chance to do this, working half in development and half in research. He's now back in research, inventing products and ensuring they're ready for development.
'I like the challenge of making new molecules and finding out how molecules work, finding out how the basis of technology works and how to get it to work better,' he says. Batchelor has spent a lot of time making new ingredients for laundry powders, for a 'whiter wash'. His Unilever research has brought him into contact with a wide range of chemistry; from the detailed mechanisms of catalysis, photochemistry and antioxidants to the intricacies of deodorants, haircare, toothpaste and tea. To date he has 45 published papers, over 70 patents, and has seen many inventions going to market. He is one of Unilever's top inventors and estimates that his inventions are now reaching over 3 billion people.
Innovation is key to Batchelor's job, and has been a strong theme throughout his career. 'At university my supervisor was a very innovative fellow,' says Batchelor, who was encouraged to 'get in the lab and get on with it'. In contrast Batchelor found his German and Swiss colleagues 'much more methodical whilst maintaining an innovative edge'.
The commercial aspect of his inventions is also crucial. 'A lot of Unilever's consumers are in the developing and emerging world. They haven't got a lot of money so you have to make sure that your solutions are very, very cost effective,' he says.
Batchelor is also involved in intellectual property, describing his inventions, helping them get patented, and protecting against infringement from competitors. It is a subject he appears to relish: 'They can involve some rather fun fights!' he says.
One of the draws of Batchelor's position is the challenge. 'If you're trying to invent things, most of them won't work', he says. But he encourages would-be inventors to be persistent. 'I like the quote from Winston Churchill,' he says: 'Success is going from failure to failure without loss of enthusiasm'. And there speaks a successful chemist.
Manisha Lalloo is a freelance science writer based in London, UK