In just a few short years Karen Bultitude has switched from scientific research to become a sought-after science communicator, writes Helen Carmichael
In just a few short years Karen Bultitude has switched from scientific research to become a sought-after science communicator, writes Helen Carmichael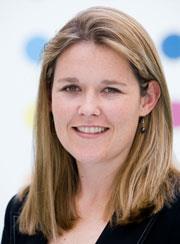 A senior lecturer in science communication and also development director of the University of the West of England's Science Communication Unit, Karen Bultitude brings the buzz of science to international audiences through high-energy demonstrations and teaching. One of nine national EPSRC Public Engagement Mentors, in 2008 she was awarded the Joshua Phillips memorial prize for innovation in science engagement.
Bultitude's scientific undergraduate training at the Australian National University 'crossed a lot of boundaries'. Her PhD brought together combustion chemistry and laser physics with applications in engineering and biology. She came across other scientists focused on narrow research topics, and disappointingly saw that, unlike her, not everyone appreciates the bigger picture.
As a young scientist, Bultitude immersed herself in demonstrations, open days and science fairs, and helped to run a science summer school. During her University of Oxford PhD she created a school laser workshop. 'I felt I got more out of the science by talking to people about what I was doing and getting enthusiastic,' she says, adding that she honed her presentation skills through debating and public speaking.
Bultitude's decision to leave hands-on science and focus on science communication was a tough one, based on her strengths and career prospects. She now believes this has had a greater impact than she would have had in the lab.
Public appearances include co-presenting the prestigious Royal Society Summer science exhibition invited lecture, lecturing for the Royal Institution and British Council and demonstrations at international science festivals. In 2003 she co-presented the IEE Faraday lecture, which was broadcast live to over a million people. The Faraday lecture preparation offered the toughest and most useful training Bultitude has received. These skills served her well in TV appearances on shows such as Scrapheap Challenge.
Bultitude says that it is exciting and worthwhile to show so many people what it's 'really' like to be a scientist or engineer on TV, but adds, 'I don't like being pigeonholed or made to be someone I'm not'. Talking directly to children is more challenging because they will very quickly let you know if you are 'boring or stupid'. In fact, 'if you can stand up in front of a roomful of kids you can probably do most of the other things I have done,' she suggests.
Live lectures and audience engagement are her passion: 'Quite honestly I like working with challenging audiences like 14-16 year olds who have completely lost interest,' Bultitude says. She has led several projects targeting young adults, who she says are making a lot of important decisions and forming future opinions.
Unusual venues are often where challenging audiences hang out. So you are just as likely to run into Bultitude at a shopping centre or pub as in a lecture theatre; one of her most successful public engagement activities was at Glastonbury Festival. There, Bultitude's young team took science to their peers. Requests to keep the noise down and to appear on festival-wide radio broadcasts flooded in. Thinking outside the box and making the experience fun are key to these events. 'It was a surprise to the audience that something like that would be at Glastonbury, but it was a pleasant surprise.'
Working around the world, Bultitude keenly appreciates cultural differences. In rural Russia a climate-change workshop took a humbling turn when she realised the audience was more concerned about where their next meal was coming from. Audiences in Boston, US, were taken aback that she left her podium to engage directly with onlookers. Experiment staples such as polystyrene cups and food dye don't exist in some locations, and establishing respect as a younger female without the title of 'professor' can prove challenging: 'You have to work even harder to prove yourself.'
'Science isn't just about being serious and formal but about celebrating what's all around us,' says Bultitude. 'Being able to one week work on genetics and then robotics a little bit later on, and trying to keep up to speed on everything that's happening is amazing.' She also finds inspiration as an intermediary and facilitator between researchers and public audiences. Bultitude hails more joined-up thinking between disciplines as the most significant trend today, because the academic experience more accurately reflects real life.
In addition to her many communication projects Bultitude also teaches on the University of the West of England's science communication MSc course, and supervises some of her department's eight research staff. 'I haven't seen another job that I'd like to do as much,' Bultitude says, 'I have a lot of flexibility and independence.' It doesn't get much better than that.
Helen Carmichael is a freelance journalist based in Vancouver, Canada
Further details of the Science Communication Unit's many projects can be found below.