A wealth of skills took Kate Bellingham from a first degree in physics, to careers as a computer programmer, TV presenter, maths teacher, and finally a national champion for careers in science, technology, engineering and maths (Stem), writes Sarah Houlto
A wealth of skills took Kate Bellingham from a first degree in physics, to careers as a computer programmer, TV presenter, maths teacher, and finally a national champion for careers in science, technology, engineering and maths (Stem), writes Sarah Houlton
A career spanning electronics, maths teaching and TV presenting put Kate Bellingham in the perfect position for her latest role - national Stem careers coordinator, supporting the Department for Children, Schools and Families' (DCSF) Stem campaign. 'I've had direct experience of science, engineering and maths, and have good links with academia and industry,' she explains. 'I hope all these groups feel I'm approachable and can see the world from their point of view!'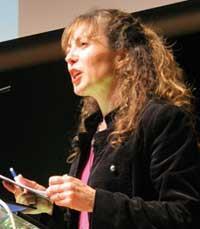 An Oxford physics degree and a spell as a computer programmer led to her joining the BBC to retrain as an electronics engineer. 'I gave the IEE's Faraday lectures for young people, and was asked if I'd like to have a go at TV presenting,' she says. 'My first instinct was to say no as I wanted to carry on with my engineering, but it was pointed out that you don't get asked this sort of thing twice, so I gave it a go.' She made several schools programmes before returning to finish her electronics training - and then spent four years presenting Tomorrow's World , followed by a spell presenting schools science programmes and promoting Stem to young people.
Realising that she was getting out of touch with electronics, she then spent four years studying part-time for a masters degree in electronics. 'Some people take a career break when they start a family - I took another degree instead!' she says. 'I went back into promoting Stem afterwards, but as I spent so much time saying how essential good teachers are, I thought I should try teaching.'
The Graduate Training Programme, where would-be teachers spend a year learning to teach on the job in a school, was the perfect route, and she trained as a maths teacher at her local secondary school. After another year there, she realised that while she was a 'perfectly competent' maths teacher, her skills would be better used elsewhere, and the chance to become Stem careers coordinator was too good to turn down. She's now been in the job for three months, and is really enjoying the new challenge.
The role is part of the DCSF's Stem action plan. 'It links into various other activities, such as recruiting and retaining teachers and the national curriculum, but it was important to make sure that careers activities weren't forgotten,' she says. 'They felt someone who could coordinate all the relevant activities and make sure they work together effectively was vital.'
For a long time, she says, schools careers advice focusing on potential jobs has been not quite the 'done thing', with a focus on educating the whole child rather than preparing them for employment. 'But it should be part of their education to learn where the subjects they're studying are used in a work environment. We don't want to sell the youngsters short,' she says. The two-day-a-week job also makes her a Stem careers champion, which will allow her to enthuse about what it's like to have a scientific career.
'Two things are really clear to me,' she says. 'We need to get young people to see that science and maths are springboard subjects, not specialist ones. If they'd chosen history
A-level you wouldn't assume they want a career in history - but there is a tendency to do this with science. It's also important that scientists feel they can talk to young people about how they use their science and maths, to make it clear how much the subjects are valued.'
The virtues of virtual experiments
Bellingham is convinced that projects like LabSkills (www.labskills.co.uk), recently launched by the RSC as part of the Pfizer-funded Discover Chemistry initiative, are extremely valuable in enthusing youngsters about science. LabSkills allows students to carry out virtual experiments online, so they can practise scientific techniques - and make mistakes - before they get into the classroom.
'I had great fun playing around with the programme,' she says. 'I tried to see how much I could do wrong and blow up the classroom! But seriously, giving youngsters experience in a virtual environment will give them confidence in a real lab situation. There is also a lot of valuable information that makes it a useful revision tool. It's a challenge attracting young people to study chemistry and choose careers that use it, and if the learning experience is not good they'll be drawn to other subjects. Tools like LabSkills are invaluable here.'
Sarah Houlton is a freelance science writer based in London, UK