Getting a degree in chemistry makes good economic sense, writes Robert Bowles
Getting a degree in chemistry makes good economic sense, writes Robert Bowles
Choosing a degree has always been a complicated process with such a wide range of courses and institutions on offer. Since the introduction of UK tuition fees of up to ?9000 per annum from 2012, that decision might become harder. While the employment prospects of having a degree have always been a factor, this has become more important as students have to balance the increasing cost of a degree against the benefits.
This decision should not be based on economics alone, the benefits of doing a degree aren't just fiscal, but from 2012 the financial implications of students' degree choices will be writ large.
The scare stories in the UK press have hidden the actual costs of going to university. While the amount of money that students have to borrow may be substantial, repayment rates will be low.
If you earn less than ?21 000 you won't have to repay anything. If for example you earn ?25 000 a year you will only pay nine per cent of the amount over ?21 000, or nine per cent of ?4000, about ?30 a month.
The financial rewards
On average, a university graduate in the UK earns ?100 000 more during their lifetime (pre-tax) than someone who leaves school at 18. For graduates of the chemical sciences, the average earning is ?180 000 more than those who leave school at 18, so gaining a chemical science degree makes particularly good economic sense.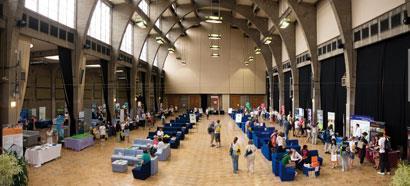 With the arrival of universities and degree courses on the open market, universities that offer the best teaching and facilities and can show that their graduates are successful will be more successful in recruiting graduates. Accessing information on these important issues is vital for students making one of the biggest decisions of their life: where and what to study. Members of ChemNet (the RSC network for post-16 chemistry students) who are looking to start a chemistry course in 2012 can access this information direct from the universities at this year's Meet the Universities (MTU) event. Now in its fifth year, MTU brings together UK university chemical science departments with their future students. The event on 2 July at Salters' Hall, London, offers students an unparalleled opportunity to talk face to face with representatives from nearly 30 UK university chemistry departments and find out what they need to know to make an informed decision about their university choices.
Chat with the experts
This year those who can't attend can get a feel for the event via the MTU presence on MyRSC, where they will have an opportunity to chat with other students attending the event and, afterwards, take part in live chat with RSC education specialists and some of the universities that were at the meeting.
The event is free for ChemNet members. Non ChemNet members who would like to attend can do so for ?15 with ChemNet membership for one year included. Register online at the ChemNet website.
Robert Bowles is RSC schools and colleges specialist
Further Reading
Meet the Universities
RSC ChemNe