Publicising your results and explaining their significance to the wider public has an obvious value to society. But it's good for your career too, reports Bea Perks
Publicising your results and explaining their significance to the wider public has an obvious value to society. But it's good for your career too, reports Bea Perks
Ten or so years ago, when British scientists were less willing to speak with the press, pretty much any reporter following a science story for a national newspaper would end up ringing either Robert Winston, Susan Greenfield or Steve Jones, recalls Mark Peplow, news editor at Nature. But things have changed. 'Scientists understand a lot more about how the media works, and what can be gained,' says Peplow, former editor of Chemistry World and, before that, pioneer of the UK's Science Media Centre (SMC). The SMC puts a broad range of scientists in touch with the media on a timescale that journalists need (from a phone call in the morning to a story that afternoon).
There is a growing realisation that the media can help you open up your research so that the public can read about it and understand more about it, he says, but it can also be useful career-wise to have your name noted.
Pop(ular) professors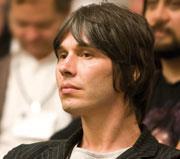 'In straitened financial times, when cutbacks are being proposed for science, if people generally have a good impression of particle physics from professor Brian Cox,' says Peplow, 'they're more likely to be supportive when scientists say "please don't cut back x billion pounds of research funding" from what some might think is quite esoteric research.' Cox had a head start with the media following a spell as keyboard player for the chart-topping band D:Ream, but that's almost forgotten in light of his regular appearances explaining particle physics.
The value of working with the media is exemplified by Les Ebdon, vice-chancellor of the University of Bedfordshire, UK. 'I came to a university that, however unfairly, didn't have a good reputation ... this reputation's been transformed,' says Ebdon, who attributes much of this success to press coverage. 'Our applications have doubled in the last two years. We're the fastest rising university in applications in the whole country. It's wonderful publicity for this university and for the values that this university stands for.'
Listeners to BBC Radio 4's Today programme will be familiar with Ebdon's comments across a range of topics related to his position as a university head. 'I do speak for the whole of higher education,' he says. 'That is one of the lessons to be learnt here, if you just speak for your university or for your research project then you won't be asked back again and again.'
But you don't have to be vice chancellor. Take Ebdon's colleague at Bedfordshire, James Crabbe, professor of biochemistry. His appearances on local radio talking about his work on coral reefs and the effects of climate change has put him on a wider stage. 'CNN takes a particular interest in James,' says Ebdon, 'once you've done something with one broadcasting company then they often come back to you.'
I'm a celebrity.
Crabbe's media appearances have also helped in terms of collaborations. 'People like to work with scientists who get publicity,' says Ebdon, adding that media appearances have probably helped Crabbe personally as well. 'In 2006 he won the 6th Aviva/Earthwatch International Award for Climate Change Research,' says Ebdon, 'I think it strangely does help if you're going to win prizes: "celebrity" counts there as in other walks of life.'
So if you're a well known name, it might improve your chances of being nominated for awards. 'Would I have got my CBE if I hadn't been on radio and television so much?' Ebdon ponders, quickly adding that it certainly wasn't why he made so many media appearances.
US scientists remain leaders in media awareness. The American Chemical Society (ACS) press office do routine follow ups with scientists on the impact of ACS publicity following publications in ACS journals or presentations at ACS national meetings.
'We are amazed at the wide range of positive impacts news media publicity has on scientists [worldwide],' says Michael Woods, assistant director of science communications at the ACS.
His unit publicises research published in the society's 38 peer-reviewed scientific journals and presentations delivered at its two national meetings. 'We reach potential audiences well up into the billions of people, and can document that with metrics from our news media monitoring services,' says Woods.
'Scientists tell us that news media publicity leads to new sources of funding, offers to collaborate with other scientists, offers to commercialise research findings, and it helps them meet the "broader impacts" criteria of the NSF [National Science Foundation] and other funding agencies.' The NSF will only award funds to scientists who can demonstrate that their research has had impact outside the scientific community.
'Nothing demonstrates that better than news clippings from organisations with the huge audiences that we reach,' says Woods.