Clouds of liquid nitrogen and flamethrowers are a usual sight at the offices of Russian science and art show Artnauka, Kit Chapman finds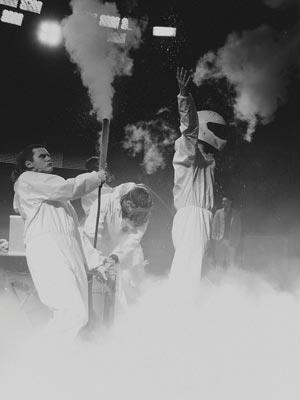 'We weren't interested in working with children. When you work with children it's very easy to make them happy and fill them with wonder … you make a small experiment in a small tube and go "woo woo woo!" and children will be happy. This is easy. Making adults [feel] wonder is more difficult. You can only do that with huge explosions and huge fires.' Ekaterina Pakhomova is the manager of Artnauka, a Russian science show that takes chemistry to its on-stage extremes. In eight minutes, the team goes through 100 litres of liquid nitrogen as they dazzle crowds: drinking it and breathing it out in an icy cloud, freezing objects and smashing them in spectacular fights, firing white plumes into the air from metre-long tubes. It's a performance piece that's seen them travel the world since the group formed three years ago.
Artnauka, which translates as 'art science' puts on around 300 shows a year, Pakhomova explains, with demand usually peaking around December. 'We're eight people, and most of us have a technical background,' she says. 'My colleagues are chemists, physicists and mathematicians.'
This team, Pakhomova adds, is united by its goal to bring science to the masses. 'Science is not boring or just about different formulas. It's not just for university – it's more interesting and more beautiful … We would like to make people believe in it and love science from another side.'
Picture perfect
Given the quantities of sub-zero substances Artnauka uses, it's unsurprising that their office in Moscow can attract attention. 'Every week we have a delivery of liquid nitrogen,' Pakhomova laughs. 'Our neighbours in our office block see huge vapour [clouds] going on to the street. Sometimes they're a little bit shocked. But for us, it's just a usual thing.'
Clouds of frozen nitrogen aren't the only reason the office gains attention. In July 2016 the Artnauka team made headlines with a series of photos depicting themselves as chemical elements or substances, enlisting the aid of a professional make-up artist and photographer. 'It was a crazy idea. One day we decided to have a party in our office and create something unusual and new. We decided to make superheroes out of chemical elements … we wanted to show that our main goal is to show that science and chemistry is really beautiful.'
Factfile
Name: Ekaterina Pakhomova
Role: Manager, Artnauka
Based: Moscow, Russia
CV: Graduated Bauman Moscow State Technical University, Russia, before starting chemistry performance show Artnauka in 2013.
Science education is as much part of Artnauka's aim as entertainment. Before every show, the team spends hours with the guests, letting them get up close with chemistry in a controlled, safe environment. This, the team feels, enhances the show by making the audience curious about what's happening. 'We want people not to be afraid of the unknown,' says Pakhomova. 'Very often, they're afraid of putting liquid nitrogen on their hand. But if you do it the right way, nothing will happen … if you know science, if you know that nothing will happen, you can do a lot of interesting things.'
Expanding opportunities
This understanding also allows the team to focus on other opportunities for corporate clients. In addition to the shows, the team runs chemistry-based team building exercises and produces special effects videos for companies, allowing for some unique product demonstrations – such as standing behind a fire-resistant wall while a team member tried to set it alight with a flamethrower. Plans are currently afoot to expand in to China, and the group has already taken their show to Italy, Belarus, the United Arab Emirates and Kazakhstan.
This is part of an ongoing trend in science education in Russia, Pakhomova explains. 'Most people think that they should have a [science] education, and different science shows are very popular. Many people want their children to know about science, not just in the classroom but from shows.'
However, Pakhomova underlines that Artnauka is mainly for adults – that kids are simply too easy to entertain. And, once again, she emphasises their aim is to add a new dimension to the public's understanding of science. 'We're very happy that people can see chemistry and art is closer than you think.'

After finishing my pharmacy degree at the University of Bradford (including a year working in community and hospital pharmacies), I decided to make the unconventional leap in to science journalism. I cut my teeth on magazines for GPs and pharmacists, before taking over campaigns on the British Medical Association's website. From there I headed back to pharmacy, managing all clinical content in The Pharmaceutical Journal and Clinical Pharmacist, before leaping at the chance to join the Chemistry World team. I also occasionally write a bit for the Daily Telegraph and pop up in assorted skeptical podcasts.
View full profile