Steven Ripp and Theodore Henry (eds)
OUP
2012 | 200pp | £95 (HB)
ISBN 9780841226609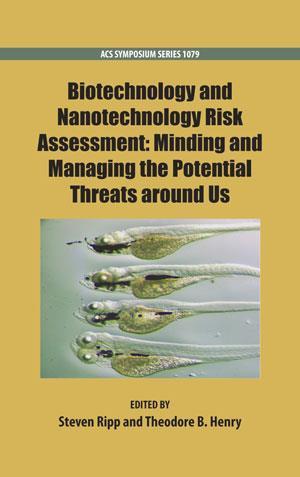 Nanotechnology is helping to revolutionise many technology and industry sectors, such as environmental science, energy, medicine, food safety and transportation. For teaching and research I often have to recommend a text that introduces risk assessment to graduate students who are familiar with the environmental fate and transport of nanoparticles and nanotoxicology in natural and engineered environmental systems. I find this book an ideal starting point for those not familiar with risk assessments.
The book begins with a chapter dealing with social risk in the assessment of emerging technology, and information inequality as a source of risk amplification. The second chapter uses an expert elicitation methodology to identify environmental risks from silver nanotechnology – specific knowledge gaps and susceptible populations that might be more sensitive to exposure to nanosilver are identified.
The third chapter provides an in depth overview of the environmental applications of nanotechnology and associated environmental risks, highlighting ways to improve life cycle analysis. The focus of chapter four is the environmental fate, transport and transformation of carbon nanoparticles. Chapter five reviews the ecotoxicity of fullerene and carbon nanotubes in sediment, soil and water.
Chapter six discusses the current knowledge and understanding of fullerene, carbon nanotubes, quantum dot nanotoxicology, silver and metal oxide nanoparticles in the microbial world. The last chapter describes methodologies for nanotechnology risk assessment and provides an overview of recent efforts to develop predictive models of nanoparticle induced toxicity.
Writing as an environmental engineer and chemist, I feel that this is an excellent text and I definitely enjoyed reading it. My only criticism is that the focus of the book is mainly on nanotechnology risk assessment and I would not have used the word biotechnology in the title. In any case, I strongly recommend that the multitude of scientists and engineers researching the applications and implications of biotechnology and nanotechnology in environmental systems read this book.
Purchase this book from Amazon.co.uk. RSC members can obtain this book direct from the publishers for a 25% discount on the RRP. See the RSC member benefits page for details.