John Emsley
RSC
2015 | 394pp | £21.99
ISBN 9781849739405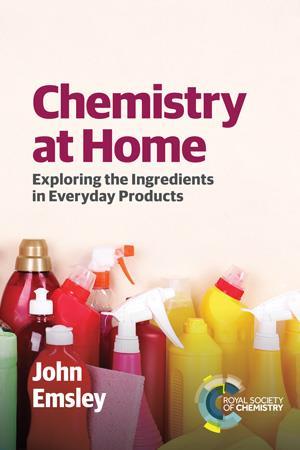 I am sure that one reason for some misconceptions about chemicals is that little is taught in schools about their everyday applications and uses. That's not the fault of the teacher in the classroom – they have a specification to teach and a lot to fit in. Of course, all packaging carries lists of ingredients that may provide some limited insight, but it is sometimes difficult to know what they all do.
For many years, the go-to resource was Ben Selinger's Chemistry in the marketplace, while John Emsley has provided much cogent material in books like The consumer's good chemical guide andVanity, vitality and virility: the science behind the products you love to buy.
The latest edition of Selinger's book first appeared in 1997, so it's time for a spring clean of the literature, and that is what we are given in Emsley's Chemistry at home. Before you get to grips with all of the different consumer products described in the book, there's an alphabetical list of technical words. The chemicals are grouped by the part of the home in which they are found – the medicine cabinet; the utility room; the bathroom; the desk; the toilet; the cupboard under the stairs; the bedroom; the kitchen; the dining room; the living room; the garage; and the garden shed. Ingredient lists are given for well over 150 different products, a representative selection of what is on the market, and for each product there is a breakdown giving the purpose of each ingredient.
So, taking Savlon as an example, we are informed that cetrimide, the active ingredient, enters the microbial cell membrane and causes cell death by interfering with vital proteins. There are three other antibacterials involved and it also contains compounds with emollient and thickening properties, plus an unnamed fragrance and sterile water.
If you, as a chemist, want to find out more about a particular chemical, simply look in the alphabetical glossary at the end of the book, which supplies further information, usually including a structure, but keeping it separate for the benefit of readers who are fazed by this sort of thing.
This book is highly recommended, not least to teachers, and is an antidote to smear stories in the media. We should all have a copy on our bookshelves – it is very browsable, and you never know when some of the many bits of information it contains will come in handy. As the back cover says, 'start reading and stop worrying'.
Purchase Chemistry at homefrom Amazon.co.uk