The National Medal of Science winner who chases funky chickens
In situ aims to meet the people behind the most exciting chemistry in the world. Interviewees are selected due to their prominence within the international scientific community and are asked to talk about their interests outside the lab.
Geri Richmond is professor of chemistry at the University of Oregon, US, and is a former president of the American Association for the Advancement of Science.
I do urban farming, that's my biggest hobby. I've got a fairly large garden, and I also raise chickens. I enjoy it because it's a lot of physical activity, and allows me to grow wonderful delicious organic produce – including fresh eggs – to share with my students and our neighbours. I have a few standard chickens, because they are good egg-layers, as well as other less common chickens that are really fun and funky-looking.
I have always been extremely physically active. I stay on top of my health and work out very hard every morning. I ran for about 35 years exclusively, even through two pregnancies. About five years ago I added a lot more cross-training, which is equally enjoyable.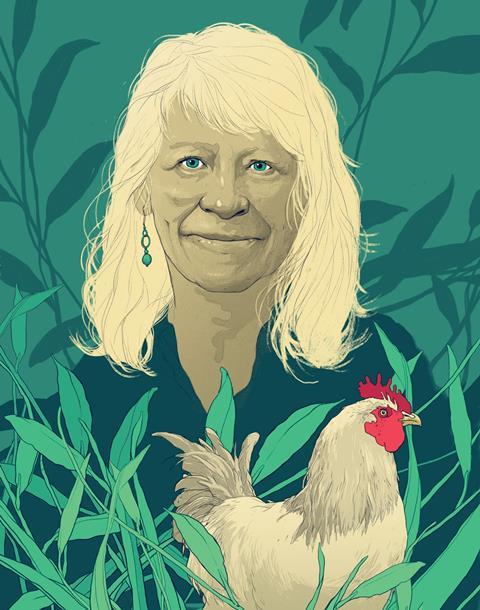 My first car was a little black Volkswagen. It didn't have a gas gauge so I had to get out of the car, lift up the hood, and shove a stick in it to figure out how much petrol the car had in it; like you normally would check oil, I would check petrol.
I wish I would have recognised, and appreciated, my creativity earlier in my career. I had always felt very creative in life outside of science, but I was more hesitant to use that creativity in my science in the initial years. There seemed to be a gap. It is wonderful when you realise that the creativity that you have in your personal life can also fit really nicely into your professional life.
My husband and I are really big track fans. Eugene, Oregon where we live is called TrackTown, USA. We enjoy keeping up on track athletes and all of the field events. Eugene has a lot of really good, high-level track meets. We try as much as possible to attend these and then follow the athletes in national and worldwide competitions.
I love my office. It is in the back of my lab, so my students are all around and come in and out of the office at most any time. I am very comfortable there with multiple computer screens and cozy chairs. Part of it used to be my nursery where I brought my baby sons until they were one year old. My husband worked down the hall, so we could share the caregiving while keeping everything else going. I have fond memories of the children with us at work, as well as when they travelled with me to meetings to allow me to nurse them through their first year. They are now 25 and 27. My younger son is in maths and economics, and my older son is in computer engineering. Both are also very physically active.
It's wonderful when you realise that the creativity you have in your personal life can also fit nicely into your professional life
We are stuck in the rut of our songs that we played when we were in college and a little older. But I have to say, our favourite band really is Pink Martini. It is a Portland-based group that is very international. Some of their songs are just quintessential Northwest US.
There is a lot that is exciting and important science right now, and it's hard to isolate any of these areas to a single discipline. I define high impact and important science today as being in areas that address big global challenges - whether that be being able to feed the nearly 8 billion people on the planet, curing infectious and non-infectious diseases, or addressing critical climate change and environmental issues. What approaches and tools do we need to solve these issues and what areas of basic and applied science could fuel future advances on these important issues?
One of the biggest threats to science right now is our increasing difficulty around the globe in recruiting the best and the brightest to be the scientists, engineers and innovators of the future. The best science is done when you have a broad range of talents, experiences and approaches to problem solving. I worry that without more aggressive education, recruitment and retention tactics to assure a strong and diverse Stem workforce around the globe our ability to address global issues of importance will be greatly diminished.
Geri Richmond is professor of chemistry at the University of Oregon, US, and is a former president of the American Association for the Advancement of Science.