OlexSys Ltd
Free from http://www.olex2.org
Released December 2012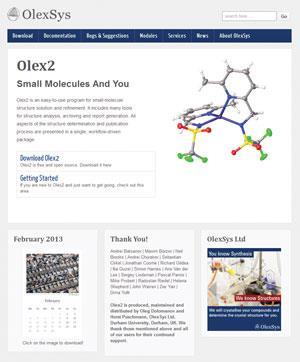 OLEX2 is a program for small-molecule structure solution, refinement and the preparation of publication material in the field of single-crystal x-ray crystallography. It is user friendly, free, open-source and runs on all platforms. OLEX2 has an intuitive and logical interface and can be mastered by chemists and students with an interest in crystallography. Seasoned crystallographers will appreciate the program's arsenal of sophisticated and unique features.
OLEX2 is seamlessly integrated with the most popular public software packages such as SHELXL, SIR, SUPERFLIP and CHECKCIF, but also includes its own structure solution and refinement engines. Users have the best of both worlds – the power of their favourite programs and the convenience of a modern graphical interface. The logical interface allows a user to easily progress through the typical workflow of structure solution and refinement, and extensive program manuals and tutorials written by the developers and user community are also available.
Experts will appreciate that OLEX2 excels in the area of disorder modeling and provides versatile tools. For example, modelling simple positional disorder can be performed with a few mouse clicks and with immediate visual feedback; or to model a very poorly refining solvent molecule, an appropriate idealised geometry from a molecular library can be incorporated. Publication-quality molecular drawings are then generated with the customisable image menu.
Chemists will appreciate the report functionality that facilitates the preparation of structural reports, crystallographic tables and experimental summaries, as well as complete data files (CIF format) required for publication. The latter feature is especially popular with our students; users can prepare their own report and CIF templates based on their preferences and diffraction equipment. Structure validation and requesting structures from the Cambridge Structural Database can be done from within OLEX2.
My favorite aspect of OLEX2 is its dynamic growth – the program is being actively developed, new functionality is constantly implemented (notably on request from users), bugs are fixed quickly, the programmers are accessible to the user community, by email and an open OLEX2 forum, and respond promptly. OLEX2 is my favourite interface in the business and I cannot recommend it highly enough.