World Economic Forum unveils its hot prospects for 2008
Being selected as a 'Technology Pioneer of 2008' by the World Economic Forum (WEF) might not seem like such a big deal. It is far from a solitary honour - after all, a grand total of 39 young companies were awarded the title on 29 November 2007, and none received a cash prize.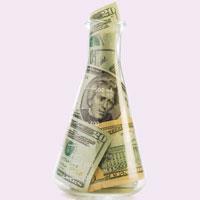 In fact, they're winning something much more valuable - a coveted invitation to the next WEF Annual Meeting in Davos, Switzerland, to be held in late January 2008. The meeting is a glitzy media extravaganza attended by top executives from the world's largest corporations, along with hundreds of influential people who help determine and finance the global scientific research agenda.
Almost half the winners are in IT; but of the remainder, chemistry underpins the work of companies that are developing a diverse range of pharmaceuticals, industrial catalysts and sustainable energy solutions. These technology pioneers will be able to woo potential investors, customers and collaborators from a pool of people who consider double-digit millions as pocket change.
George Gr?ner, founder and chief science officer at Unidym Inc, based in Menlo Park, California, certainly hopes to catch the attention of the big chemistry corporations at Davos. Unidym, which develops carbon nanotube applications, recently merged with Carbon Nanotechnologies, Inc., the firm founded by the winner of the 1996 Nobel Prize in chemistry, Richard Smalley. As well as touting for business, Gr?ner, a distinguished professor of physics at University of California - Los Angeles (UCLA), also hopes to act as an advocate and tutor of nanotechnology while at Davos.
Good pedigree
The WEF launched its Technology Pioneer programme in 2000, with nearly 400 firms selected since then, including Google and wireless technology firm Cambridge Silicon Radio. The companies work on 'life-changing innovations' in information technology, renewable energy or biotechnology. Rodolfo Lara, who manages the Technology Pioneer programme for WEF in Geneva, agrees that the major benefit to the young companies is the invitation to the annual meeting. 'This is a very select event,' he said. Lara added that the programme has a good track record of picking firms that are able to survive in the uncertain environment of new technology start-ups. As of December 2006, only 8 per cent of Technology Pioneer firms had met their demise, with the remaining 92 per cent still in business, merged or acquired. Lara said he was not surprised by the relatively strong showing of chemistry this year, mainly in the form of nanotechnology and biofuels. 'Clearly chemistry can play a big role in environmental issues and in the life sciences,' he said.
Interestingly, 23 of the total 39 winners are based in America. 'Let's face it, the US is still the cradle of innovation,' said Lara. Nevertheless, the WEF will make more effort in coming years to scout out technology pioneers in other regions of the world, he added.
Here, Chemistry World learns more about some of the WEF's Technology Pioneer of 2008.
Nanostellar Inc. (Redwood City, California, US; founded 2003)
Nanostellar produces nano-engineered catalysts to reduce exhaust emissions in automotive and stationary power industries. Of the firm's 33 employees, 23 are in R&D, with 16 of those focusing on inorganic and colloidal chemistry. 'Nanostellar is all about chemistry,' CEO Pankaj Dhingra told Chemistry World. 'We try to understand chemical reactions through both targeted chemistry experiments as well as through computational nanoscience.'
Dhingra said that rational catalyst design has applications beyond automotive catalysts. 'This methodology can be used to understand and enhance any set of chemical reactions,' he said. 'However, since this is a very new science, there is quite a bit of scepticism among traditional chemists of the applicability of this methodology for real-world solutions.' Nanostellar's current focus is on developing catalysts for diesel emissions control that use less platinum. The firm has developed a catalyst formulation that for the first time includes gold. 'The potential to use gold in this type of application has long been considered, but until now the technical challenges concerning catalyst durability have prevented gold's use,' he said.
Unidym Inc. (Menlo Park, California, US; founded 2005)
The firm develops and manufactures carbon nanotubes (CNTs) for electronics and optoelectronics applications. About two dozen of the firm's 40 employees are scientists, with about half of those chemists, said founder and chief science officer George Gr?ner.
The company's first CNT electronics product is a transparent, conductive film for touch screens and displays. The film mimics the properties of metals and silicon semiconductors and can be applied using fabrication processes that allow them to be printed on many surfaces, including glass and polymers.
Gr?ner believes that CNTs will eventually replace many polymer-based electronic solutions, as these 'nano-wires' are incorporated into electronics applications. 'If you took a picture of it, it would look like a freeway, electrons flowing just like cars on a freeway,' he said. 'But it is a hundred million times smaller than a freeway.'
SiGNa Chemistry, Inc. (New York City, US; founded 2003)
The firm specialises in transforming reactive alkali metals and their derivatives into safe, free-flowing powders used in pharmaceutical manufacturing, petroleum refining, fine chemical synthesis, and environmental remediation. About 10 of SiGNa's 15 employees are chemists.
Founder and CEO Michael Lefenfeld says, 'Our technology exploits the enhanced nano-properties that result from the integration of alkali metals with structured metal-oxide supports. Our materials are highly loaded with active alkali metal, approximately 40 per cent by weight, and treated to generate a final product that retains all of the chemical reactivity of the metal but removes all of the hazards typically associated with these metals, such as pyrophoricity, oxidation, and so on.'
SiGNa's alkali metals are stabilised on metal oxide supports such as silicas, aluminas, and titanias. They also make sodium silicide (NaSi) powder, as a source of hydrogen gas for hydrogenation chemistry and fuel applications. 'And we have several solid-supported organolithium and lithium amide reagents in development, with small-scale manufacturing of these developmental products in place already,' added Lefenfeld.
Primafuel (Long Beach, California, US; founded 2005)
Co-founder and executive vice-president Brook Porter says Primafuel is not only focusing on developing biofuel technologies, but also on production infrastructure and distribution.
'We think this is critical to the future of biofuels,' he said. 'So many great ideas happen in the lab, but never move to the marketplace.'
Earlier this year Primafuel received a $640,000 (?314,000) grant from the California Air Resources Board toward the company's planned 60 million-gallon-per-year biodiesel plant at the Port of Sacramento, three times larger than the largest-capacity biodiesel plant currently operating in California.
In addition to using traditional fats, oils and other agricultural products as fuel feedstocks, Primafuel is also developing methods to use algae on a large scale to produce biofuels.
'We have also developed technology to reuse and recycle both the catalyst and the glycerin byproduct in our system,' Porter added. 'This not only eliminates waste, but also reduces the inputs and increases the productivity of our plants.'
LS9 Inc. (San Carlos, California, US; founded 2005)
LS9 produces proprietary biofuels derived from diverse agricultural feedstocks, and has trademarked the name 'Renewable Petroleum' for what it describes as its 'designer biofuels'.
Stephen del Cardayr?, vice president for R&D, said that 25 of company's 30 employees are scientists, half of them chemists in disciplines ranging from synthetic and analytical chemistry through to biochemistry and chemical engineering.
And the company is still hiring. 'LS9 is doing what no-one has done before, and we seek bold scientists who thrive on tackling technical challenges that have global implications,' he said.
According to del Cardayr?, LS9 is the first firm to use fatty acid biosynthesis pathways to produce fatty acid alkyl esters (biodiesel), hydrocarbons (where the fatty acid product has its oxygen content removed to create 'biocrudes'), and a variety of other industrial chemicals, from sugars. LS9 will construct a pilot plant next year, with plans for industrial production of hydrocarbon-based biofuels for the market expected in three to five years, he said.
Cima NanoTech Inc. (St. Paul, Minnesota, US; founded 2003)
According to CEO Jon Brodd, a third of the company's 33 employees are chemists, who develop self-assembling networks of nanoparticles for use as a transparent conductive component in electronics. The firm's plasma displays have optical filters that are visually transparent, allowing image transmission, but at the same time conductive, to prevent electromagnetic interference.
Brodd explained that existing processes to create these transparent films use conventional photolithography, creating a waste stream which is 'extremely expensive and discards enormous volumes of solvents, acids, and heavy metal wastes. But our technology brings nanoparticles of conductive materials [into place] via a self-assembly process, greatly reducing the metallic and acid waste stream.'
Ned Stafford