Can drug detection technologies deal with the demands of roadside testing?
The UK government is setting up an advisory panel that will assess the feasibility of roadside testing for drug driving. The panel's advice will feed into decisions about potential new legislation allowing drug drivers to be prosecuted in a similar way to drink drivers. But are current detection devices - so called 'drugalysers' - advanced enough to make such a law practically enforceable?
As the law stands, if a person's ability to drive is 'impaired' by drugs they are committing an offence under the Road Traffic Act 1988, which provides for blood or urine to be taken as evidence. In 2003, the Railways and Transport Safety Act gave police officers the power to test for drugs using sweat or saliva samples. However, a 2010 report on drink and drug driving by Peter North1, commissioned by the Department for Transport, concluded that most drug driving in the UK goes undetected - if a charge of drink driving can be made on the basis of a failed breath test, further charges of drug driving are unlikely to be pursued. New legislation specific to drug driving could change that.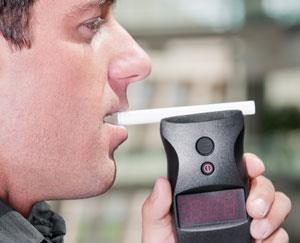 Drugalysers
Current detection techniques screen for several different drugs - commonly drugs of abuse such as cannabis, cocaine, amphetamines and opiates - using immunoassays. Antibodies that latch on to specific chemical structures are used to test for different drugs. Practically, this means applying saliva to a cellulose strip for each drug and waiting for lines to appear on the strips to indicate the results. In Australia, immunoassay-based tests are already used by police officers to detect drugs in saliva. These presumptive tests are backed up by laboratory tests, using fluids from the same sample or a second sample to confirm the result.
Saliva is the preferred specimen, since it reflects active substances as opposed to drug use history. But, as Gail Cooper, an expert at the University of Glasgow's department of Forensic Medicine and Science, notes: 'No matter how many test strips or drug groups you're able to look for, there's going to be a limitation on exactly how many you can test for in any one test and the oral fluid samples are obviously small in volume in comparison to urine tests, so it's a real challenge.'
The immunoassay approach is also sluggish, says John Parselle, chief executive of the University of Oxford, UK, spinout Otox. He says his company's drugalysers, based on chemical sensors, are much speedier. Otox is developing sensors that can detect a few nanograms of a drug in samples from mouth swabs within around 15 seconds. By comparison, a driver might be kept standing at the side of the road for up to seven minutes waiting for the result of an immunoassay-based drug screen.
Researchers involved in a major pan-European research project called DRUID (Driving Under the Influence of Drugs, Alcohol and Medicines) have called for better screens for cannabis and more research into cocaine detection.2 As Parselle explains, cannabis is the 'big drug' where roadside tests are concerned. 'It's 10 times more of an issue than any of the other drugs, in fact, any of the other drugs put together,' he says. 'It's chemically difficult and it's a waxy substance, so it tends to adhere to surfaces, which causes problems for other systems.'
No limits
Currently, there are no legal limits for drugs detected in roadside screens in the UK. The Australian government has a zero tolerance policy for cannabis, methylamphetamine and MDMA (ecstasy) and research into the levels that cause impairment is ongoing in Europe. Outcomes from DRUID regarding thresholds highlight a tricky problem - that drug users will be impaired to varying degrees depending on their tolerance to the drug in question.
Setting cut-off levels is complicated and difficult, says Cooper. 'A lot of the manufacturers are going with what their systems can actually see with respect to sensitivity,' she says. 'Many of them are still not sensitive enough to detect the very low levels that can be present in oral fluids.'
Some studies aimed at establishing impairment levels test volunteers' responses to drugs in driving simulations. But the design of these studies is fraught with practical and ethical considerations, says Katy Savage, an expert in forensic analysis at the University of Strathclyde, UK. And, she adds, the situation becomes even more complicated by having to account for prescription drugs.
'The regulation of prescription drugs and legal highs is precisely what makes this such a difficult area,' says Savage. 'Some prescription medications undoubtedly impair driving, but in my opinion, at least initially, tests will focus on illegal drugs that are not prescribed in the UK.' The problem being that there are some prescription medicines that do not impair driving but may be capable of producing a positive test result because they are chemically related to illegal substances.
Legal highs also pose a challenge. According to Savage, there are very few reliable standards available for detection of legal highs and only limited research has been done to provide analytical profiles for their detection.
Hayley Birch
References
1. P North, Department for Transport, June 2010
2. U Meesmann et al, DRUID 6th Framework Programme, October 2011