New materials, health and energy are some of the biggest beneficiaries in the latest European funding round
Ned Stafford/Hamburg, Germany
Chemistry has done well in the European Commission's new
7 billion (?6.1 billion) funding package, up 9% from a year ago and the largest such package ever. Researchers say that it is another positive step forward for the EU's innovation strategy, which will plough billions into health, energy and new materials.
'Overall, an excellent programme, to be welcomed,' says Richard Darton, president of European Federation of Chemical Engineering (EFCE). 'The EFCE is very supportive of the aims of this coherent innovation strategy. Bridging the gap to the market is the real challenge to make innovation happen and it is excellent to see that the European Commission is giving this a high priority.'
However, Darton, a professor of chemical engineering at the University of Oxford, UK, and others feel that in future the Commission will need to provide even more concrete support for innovation - not only funding, but policy alignment.
'We hope that future programmes will put even more emphasis - and money - into stimulating resource efficiency, and improving the sustainability of our European lifestyle,' he says. 'We need much more effort on water engineering, sustainable energy and green consumer goods.'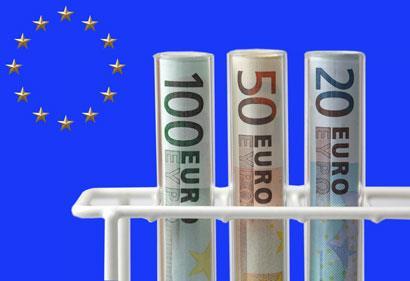 Gernot Klotz, executive director for research and innovation at the European Chemical Industry Council (Cefic) in Brussels, adds: 'Research does not equal innovation.' Asserting that the Asia-Pacific region and the US are currently better than Europe at commercial deployment of knowledge, he says: 'We have to work on innovation to be a world leader.The chemicals sector is ready to make big contributions.'
Klotz says that although total package is up 9 per cent, it appears that chemistry-related basic research funding is at about the same proportional levels as previous FP7 packages. The main chemistry-related beneficiaries of funding would include key enabling technologies, such as nanotechnologies, advanced materials and biotechnology, as well as environment and energy.
The Commission announced the
7 billion funding package under the EU's Seventh Framework Programme for Research (FP7). M?ire Geoghegan-Quinn, European commissioner for research and innovation, said that fresh funding 'will bring Europe's best researchers and innovators together to tackle the biggest issues of our time, such as energy, food security, climate change and our ageing population'. In the short-term it is claimed that the package will create around 174,000 jobs and over the next 15 years nearly 450,000 jobs, as well as adding €80 billion in GDP growth.
The
7 billion will be shared among four broad categories. Direct proposals in 10 major different fields will receive a total of
4.08 billion, the European Research Council will receive
1.57 billion of the total package and 'people' programmes for training more researchers, such as the 'Marie Curie Actions,' will receive
888 million. 'Capacities' programmes aimed at improving international infrastructures and cooperation will get
465 million.
The 10 fields that will share
4.08 billion are health (
656 million); 'bio-based economy' (
307 million), which includes research in food and in used and production of renewable bio-resources; information and communication technology (
1.325 billion); new materials (
488 million); energy (
314 million); environment (
265 million); transport (
313 million); social sciences and humanities (
89 million); space (
84 million); and security (
242 million).
Bridging the gap
The Commission said a prime goal of the funding is bridging 'the gap between research and the market,' with about
1 billion funneled to small and medium enterprises (SME).
Darton says the new package provides SMEs with a 'relatively large budget' and encourages active participation of industry and of 'knowledge exchange' between different disciplines and market segments. 'We are pleased with the investment in the bio-economy and smart cities, also with the programmes to encourage women innovators, and the best senior and young researchers,' he says.
One area of innovation support that Klotz says is lacking is the 'processing side,' which includes conversion of feedstock into chemicals, pulp and paper and metals. He says the chemicals sector is taking the lead in cooperation with other sectors in developing key technologies and is currently working on concrete proposals to improve resource and water efficiency, for using raw materials, and in creating the 'smart cities' of the future in public-private partnerships.
Klotz notes that the grants will not be awarded until the start of 2012, with initial results from the basic research being available around 2015 or 2016. 'Commercial deployment won't come for another few years after that,' he says, adding that the Commission should strive to support the long process from basic research to innovation and commercial deployment. 'Innovation is a chain that breaks at its weakest link and we have to speed up,' he says.
The new funding package is unlikely to be affected by the financial crisis in the Eurozone, Klotz says. 'The funding is already foreseen in the budget,' he says. However, with a limited package of research funds 'you need to have very efficient research,' he says. 'No double research, work closely together, explicit priorities.'
Interesting? Spread the word using the 'tools' menu on the left.
Also of interest
19 July 2011
Analysis concludes that the European Research Council needs to change its management structure to improve its efficiency

20 November 2008
Half a billion euros dished out to well-established scientists

23 May 2006
EU research investment from 2007 to 2013 will fall €20 billion short of previous agreements.