The latest techie toy for educating unsuspecting children has arrived.
Forget Lego and Meccano; the latest techie toy for surreptitiously educating unsuspecting children has arrived - a mini hydrogen fuel-cell-powered car, complete with its own filling station.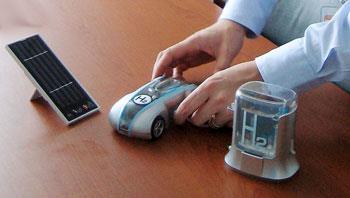 The H-racer, which measures just 16cm by 7cm, has been launched by Chinese company Horizon Fuel Cell Technologies, Shanghai, with the aim of giving fuel-cell technology more prominence. The toy gets its racing power from hydrogen produced externally - in the mini fuel station - which then fills a balloon inside the car. The hydrogen is produced electrochemically when a small solar-powered current passes through water in the fuel station. An on-board fuel cell uses the balloon-tank full of hydrogen to power the H-racer for up to four minutes of clean, pollution-free driving, claims Horizon.
'I like the look of the car and would be happy to play with one,' said Nigel Brandon, director of Ceres Power, a UK fuel cell company. In fact Brandon is something of an educational toy expert - he already has another car with an electrolyser on board. Brandon's car uses a photovoltaic panel to convert solar energy to hydrogen, and then puts the hydrogen through a fuel cell.
Vroom-vrooming aside, the H-racer has a serious message, Brandon said. 'Many auto makers and fuel companies are attempting to develop a hydrogen powered car operating in the same way,' he said, conceding that Horizon is not including the high pressure compressed hydrogen or liquefied hydrogen currently favoured by full-size-vehicle manufacturers.
Brandon uses his toys to help explain fuels cell technologies. 'It is important to point out the issues associated with hydrogen production (where does the electricity come from to produce the hydrogen, for example) and storage to help people understand we are still a long way from the widespread availability of hydrogen powered passenger vehicles.'
Horizon is also considering more serious fuel cell technologies. The company plans to introduce, within months, a 'cost-competitive, high performance portable generator' that can produce 100W of power using hydrogen as a fuel. Brandon urges caution: 'until we see data on cost and durability, it is impossible to judge whether this is a viable product,' he said.
Elsewhere, a researcher in The Netherlands has built a prototype scooter that can be powered by hydrogen - although it currently relies on old-fashioned lithium batteries with the help of a fuel-cell simulator. Crijn Bouman from the Delft university of technology built and designed the scooter, called a Fhybrid, to help in the battle for cleaner air in inner-cities.
Katharine Sanderson