Unique HIV joint venture formed by two pharma heavyweights
The world's two biggest pharmaceutical companies, GlaxoSmithKline (GSK) and Pfizer, are bundling their HIV activities into a joint venture company in a move they claim is both 'unique and innovative'.
The deal is unusual for big pharma in that it is more than a conventional co-marketing or co-promotion deal - GSK and Pfizer are pooling not only their marketed products, but also their development pipelines.
The combined company's portfolio of 11 marketed products had 2008 sales of ?1.6 billion - accounting for 19 per cent of the ?8.4 billion HIV treatment market. According to IMS Health the market for HIV treatments grew 14 per cent last year - well ahead of the low single-digit growth for the overall pharmaceutical market.
The new company, which will be named later this year, has six compounds in clinical development - even though GSK's HIV vaccine candidates are not included in the deal.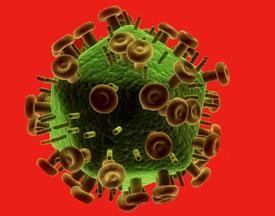 GSK has been losing ground in the HIV market to sector leader Gilead Sciences, whose dual therapy Truvada is the world's biggest selling HIV drug with sales of $2.1 billion (?1.4 billion). Gilead also has a fast-growing triple therapy, Atripla which saw sales grow 74 per cent in 2008 to $1.6 billion, while sales of GSK's maturing product portfolio fell 5 per cent to ?1.5 billion.
The combined company will initially be 85 per cent owned by GSK as almost all its near-term sales will come from its product portfolio. Pfizer's initial stake of 15 per cent will increase if sales of its new compounds tip the balance within the venture.
Pfizer's four clinical drug candidates and the recently-launched HIV cell entry inhibitor, Selzentry, plug a near-term gap in GSK's portfolio which contains a number of older products facing patent expiry.
While the mechanics of the deal may be unusual, it is very much in keeping with big pharma's current trend of focusing on a few therapeutic categories and creating smaller and more flexible research and development units. Perhaps even more unusual is that the new company will 'outsource' its research back to its owners.
'The deal gives us a chance to re-energise this important therapeutic area,' says Andrew Witty, GSK's chief executive. 'Giving this company independence allows it to make use of both GSK and Pfizer pipelines, but also seek out other licensing opportunities in the way that a specialist biotech company would.'
Witty is openly sceptical of the 'merger-mania' in pharma, which has already seen deals between Pfizer/Wyeth, Merck & Co/Schering-Plough and Roche/Genentech in 2009. He said in a conference call that this risk-sharing partnership deal shows that there are alternatives to costly mega-mergers that often have integration problems.
In one way, the key motivation for the deal - costing-cutting - ties in with the pharmaceutical merger trend. Analysts have estimated the company could make ?60 million in near-term cost savings, mainly from cuts to administration, marketing and sales.
Phil Taylor