Inexpensive sample preparation for monitoring success of Aids treatment
HIV RNA has been successfully extracted from human blood using a portable device that does not need electrical power to work. The system, developed by researchers in the US, is another link in the chain to enable the accurate monitoring of Aids treatment in countries with limited resources.
The availability of antiretroviral therapy has expanded rapidly in recent years, but the ability to monitor the progress of treatment has not kept up with the pace. Although cheap, qualitative assays are available for the initial detection of HIV infection, quantitative viral load measurements are needed to check if treatment is working. Effective, inexpensive sample preparation that works at ambient temperature and without the need for cold storage is one of the current stumbling blocks in achieving this goal.
Catherine Klapperich, who developed the device with colleagues at Boston University, Massachusetts, says 'it allows task shifting of the nucleic acid extraction step to the site of the blood draw.' The system uses low pressure, mechanically driven, hybrid alcohol precipitation and solid phase extraction. RNA is captured in a detachable cartridge, which is then immediately ready for storage and transportation. The nucleic acids can then be stored and easily transferred at ambient temperature to the laboratory for testing, without the need for any further specialist equipment.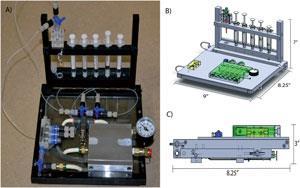 Samuel Sia, who develops devices to improve the health of people in developing countries, at Columbia University, New York, US, says '[this] first step is one of the most difficult, namely, extraction of the nucleic acids from a clinical specimen in a form that is appropriate for downstream amplification.'
'An important next step will be to integrate this sample processing component with other modules in order to build a fully integrated test,' adds Sia. Klapperich's team has recently finished linking their device with a DNA amplification assay. Next they want to develop it to give a visible readout.
Jens Ducrée, a microfluidic platforms expert at Dublin City University, Ireland, says the work 'may pave the road towards viral load monitoring at the point-of-care in poor health-infrastructure regions where Aids is epidemic.'