Flexible electronic displays are finally racing to be first to bring their products to mass market
Ned Stafford/Hamburg, Germany
After years of promising results in the laboratory but few commercial applications, two start-up firms specialising in plastic-based flexible electronic displays are finally racing to be first to bring their products to mass market.
Both firms started off 2007 with a bang, making major announcements on 3 January. Cambridge, UK-based Plastic Logic announced it had raised $100 million in venture capital to help fund construction in Dresden, Germany, of what it describes as the 'first factory to manufacture plastic electronics on a commercial scale.' And Dutch consumer electronics giant Royal Philips Electronics announced that its flexible display research team had been kicked out of the incubator to become the independent company Polymer Vision Ltd..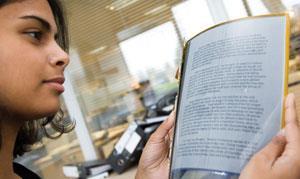 Thomas van der Zijden, Polymer Vision's vice president for marketing in Eindhoven, Netherlands, told Chemistry World that Polymer Vision wants to be first to market, adding: 'We want to show the world that flexible display technology is no longer science fiction and that we have products to sell.'
Polymer Vision is focusing its efforts on small mobile device screens that can wrap around a pencil, which it calls Readius. They recently signed a deal with Telecom Italia to market a mobile personal digital assistant (PDA) with a 5-inch rollable display that can be stored when not in use. The device is scheduled to hit the Italian market by the end of the year, and van der Zijden expects other contracts to follow. 'We really think the technology will make a breakthrough in the mobile industry,' he said. In contrast, Plastic Logic plan to produce A4-sized screens that can only flex around a roll of paper towels. Their factory in Dresden, which will employ 140 people, will begin operation in late 2008.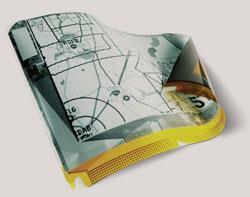 The two companies also use different processing techniques. Polymer Vision's rollable displays rely on the same lithography techniques currently used in the semiconductor industry, and the company has signed a deal for its screens to be produced by Southampton, UK-based nanoscale technology firm Innos.
Plastic Logic relies instead on a new process for printing electronic circuits on plastic substrates, which it says is 'considerably simpler than conventional amorphous silicon based processes.' This plastic base can be combined with liquid crystal displays, organic light emitting diodes, or electrophoretic 'electronic ink' to make a finished device. However, the Plastic Logic process cannot be done in current silicon plants - hence the new Dresden factory.
Flexible friend
The current race to market traces its roots back to three chemists in the late 1970s who found that polymers can be made to conduct electricity. Alan Heeger, Alan MacDiarmid and Hideki Shirakawa helped found the field of plastic electronics, now usually dubbed organic electronics, and shared the Nobel Prize for Chemistry 2000.
Both firms use organic/polymer thin film transistors (TFTs) that were created by this field of research. TFTs can be made using lower temperature processing techniques than traditional silicon displays, which allows plastic to be used as a substrate for the TFT layer.
And both firms use electronic ink technology from E Ink Corporation, a spin-off from MIT Media Lab in Cambridge, Mass. The principal components of electronic ink are millions of microcapsules. In one incarnation, each microcapsule contains positively charged white particles and negatively charged black particles suspended in a clear fluid. When a negative electric field is applied, the white particles move to the top of the microcapsule where they become visible to the user, while an opposite electric field pulls the black particles to the bottom of the microcapsules where they are hidden. For now, marketable displays are limited to monochrome, but Polymer Vision sees in the future larger screens for handling full-motion color images.
Jim Tully, analyst at high-tech consultancy Gartner in Egham, UK, believes that plastic electronics will never dethrone silicon. 'But I think it is going to be a big market ... I think many of the products we will see in 20 years don't even exist now as concepts.'
'And by 2015, we believe the revenue will be $1-2 billion,' predicted Barry Young, an analyst at flat panel consultancy DisplaySearch of Austin, Texas.Wolfgang Freese, vice president for the Economic Development Corporation of the German state of Saxony - dubbed 'Silicon Saxony' by some - said that Dresden beat Singapore to host the Plastic Logic factory. 'Getting Plastic Logic to come to Dresden was of vital importance to us. Now we see that Dresden has a chance and not all companies are going to Asia.' Meanwhile, Polymer Vision's van der Zijden notes that his technology's conventional lithography manufacture is already well established in Asia: 'There could be a move there in the future.'
Further Reading