New report shows research in Russia, once considered a scientific powerhouse, is now lagging behind
Ned Stafford/Hamburg, Germany
Research in Russia, considered a scientific powerhouse during the cold war years, has faded in global importance since the break-up of the former Soviet Union in the early 1990s and now is lagging behind China and India, according to a recent Thomson Reuters report.
Russia produced about 127,000 scientific papers in a recent five-year period, accounting for 2.6 per cent of global papers in journals indexed by Thomson Reuters, only slightly ahead of the Netherlands at 2.5 per cent and Brazil at 2.1 per cent. China published 415,000 in the same period, 8.4 per cent of world output.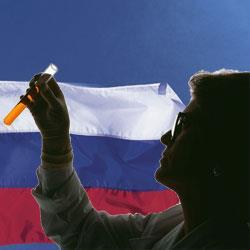 Russian science is still suffering from the negative consequences of the collapse of Soviet Union, the authors state, adding: 'a serious "brain drain" dates from the early 1990s, when, according to some estimates, upwards of 80,000 talented and able scientists left the country in search of better earnings, funding, and facilities abroad - to the benefit of Western Europe in particular.'
While the number of research papers from China, Brazil and India has surged in recent years, Russia's decline has steepened, particularly in fields of traditional global strength, including chemistry.
Russia accounted for 28,564 chemistry papers from 2004 to 2008, fourth place in the world with a 4.87 per cent global share, but down from 6.15 per cent over 1999-2003.
In 2004-08, the US overtook Germany to become the top collaborator for Russian scientists, accounting for 10.3 per cent of total Russian collaborations, just ahead of Germany's 10.1 per cent share. France, the UK and Italy have all boosted the number of research collaborations with Russia in recent years.
J?rn Achterberg, head of the German Research Foundation's Moscow liaison office, told Chemistry World that Russian scientists are 'deeply concerned' about the future of science in their country. However, he notes that despite the drop in papers, some officials and scientists contend that Russia is still strong in certain areas and will continue to hold its position.
'The Russian scientific community, on the whole, does not see itself as a minor player in the world of science,' he says. 'But there can be no doubt about the fact that many scientists have the feeling that not enough attention is being given to science.'
This concern was underscored by an open letter in October from 185 expatriate Russian scientists to Russian president Dmitry Medvedev and Prime Minister Vladimir Putin warning of a 'looming collapse' of Russian science, says Achterberg, adding that the global financial crisis triggered dramatic budget cuts at the Russian Academy of Sciences and the Russian Foundation for Basic Research. 'The financial crisis will probably lead to another major brain drain,' he says.
Nonetheless, in November's state of the nation address Medvedev proposed five research priorities that will receive 'substantial support': medical, energy and energy efficiency, information, space, and telecommunications, Achterberg says. In the hope of slowing the brain drain, in December Medvedev also said he wants to improve housing for scientists and support for younger researchers, as well as encouraging more international scientific cooperation and private sector financing.
'Generally speaking, Russia is trying harder than ever to restructure their system in order to meet the contemporary challenges and bolster scientific research,' says Achterberg.
References
Global research report: Russia - Research and collaboration in the new geography of science, Thomson Reuters, January 2010