Forensic science (3rd edn)
Forensic science (3rd edn)
Andrew Jackson and Julie Jackson
Harlow UK: Prentice Hall
2011 | 544pp | ?39.99 (PB)
ISBN 9780273738404
Reviewed by David Bremner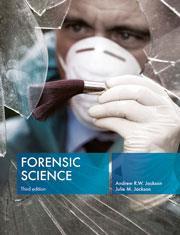 Forensic science is a well established academic discipline and, although some believe it is a soft option, it has the demonstrable effect of turning those who might have run a mile from science into students who are able to understand scientific principles and techniques.
The popularity of such courses is partially due to television programmes, principally CSI from the US, which over-glamourise forensic science. As an antidote, Forensic science by Jackson and Jackson is ideal in providing an excellent overview of current, real forensic science.
This is the third edition of the book. It is 10-15% longer than the previous edition and is well worth the extra content. Some latest developments, such as a new section dealing with the recovery of digital evidence from the crime scene, have now been included. Although I am not convinced that digital evidence is best sited in The crime scene section, it does give an overview of the types of equipment and consequently evidence that might be acquired from digital technology.
The role that evidence evaluation plays in the work of the forensic scientist is becoming increasingly important and this edition provides an excellent introduction to statistics and their use in the interpretation and evaluation of trace evidence and the Case Assessment and Interpretation (CAI) model. A section on excavation and recovery of human remains is also a new addition, which has been included 'in response to comments from both students and reviewers'. I am not that sure that such a section should be present in a forensic science book, but if the vox pop demands it then who am I to complain?
A great introduction for those generally interested in the subject but a must buy for all first year students studying the topic at university.