Lyrics from the periodic table
Lyrics from the periodic table
David Morphet
Notion Books
2011 | 48pp | ?5 (PB)
ISBN 9780954157388
Reviewed by Harriet Gould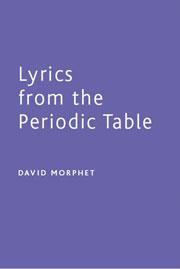 Given the iconic status of the periodic table, it is easy to see how the elements could forge their way to prominence in yet another art form. Poetry is an interesting choice considering the un-poetical and non-systematic ways in which the elements were first discovered.
Lyrics from the periodic table demonstrates the passion with which the author strives to incorporate an awareness, or at least an acknowledgement, of the elements into the lives of those who may not appreciate their presence all around us. Giving each of the elements its own lyric is definitely one way of encouraging people to do this. Some might argue that the elements are pure poetry in their own right, so much so that perhaps they can hold their own without being promoted in an English lesson.
Each lyric is incredibly descriptive. If you haven't thought of the elements in this light before, the book does help you to gain an understanding of the nature of their unique properties. However there are some parts that could be misleading - Adieu to Mercury could encourage you to believe that mercury is practically redundant!
That said, I found the lyrics to be thought provoking enough to entice me to investigate each element further. As I don't have a background in chemistry, you could say that the book has had the desired effect.
RSC members can purchase this book from Notion Books for a 20% discount.