The chemical history of a candle (150th anniversary edition)
The chemical history of a candle (150th anniversary edition)
Michael Faraday (edited and introduced by Frank James)
Oxford, UK: Oxford University Press
2011 | 152pp | ?14.99 (HB)
ISBN 9780199694914
Reviewed by Bill Griffith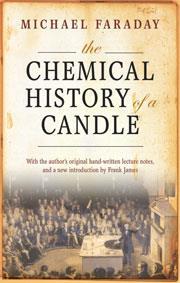 Faraday's six Christmas lectures, delivered at his famous bench in the Royal Institution and accompanied by many demonstrations, were to be his last. He was 70 and gave two lectures in late December 1860 and the remainder in early 1861 to an audience averaging 650 'juveniles'. They were published in 1861 in William Crookes's Chemical News, and in the same year as a book. The Candle has never been out of print; this edition marks its 150th anniversary, and includes the rather difficult-to-read facsimile notes which Faraday used for the lectures.
Faraday uses the candle as a symbol to talk about the nature of combustion - how the oxygen from air is needed, how water and CO2 are produced and the hidden role of hydrogen. The text is lyrical and beautifully expressed, communicating his obvious enthusiasm, authority and sense of excitement. There were many accompanying demonstrations, often involving explosions and bright lights. Endearingly, Faraday talks about himself and the audience as 'we philosophers' and, on one occasion, as 'we juveniles'.
Frank James provides an elegant, well-referenced and informative introduction, recounting the history of the Christmas Lectures and of the Candle in particular (Charles Dickens published some earlier versions of these lectures in his Household Words). He speculates on what has kept this text alive for so long - it apparently is still used for teaching purposes in Japan and China. It is of course fine literature, as he points out, but clearly not cutting-edge science. I think we regard it with such warm affection because of the power and excitement which it still conveys and is literary qualities. As an 1861 review in the Daily News said: '[it] is so simple and engaging that the youngest reader is charmed'.
If you have never read the Candle you are in for a treat. This edition is reasonably priced, well illustrated and handsomely produced.
RSC members can purchase this book direct from the publishers for a 25% discount on the RRP. See the member benefits link on this page.