How proteins work
Mike Williamson
New York, US: Garland Science
2011 | 464pp | ?46 (PB)
ISBN 9780815344469
Reviewed by Timothy Bugg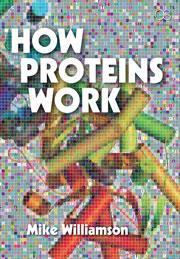 This book by Mike Williamson offers a new perspective on protein structure and function, an important topic in biochemistry and chemical biology. Going beyond a description of protein structure, this book takes the reader through topics of current research such as protein evolution, protein dynamics, molecular motors and multi-protein complexes.
The principles of protein structure are nicely explained and beautifully illustrated in colour, with relevant examples displayed in detail. The physical principles behind non-covalent interactions, enzyme catalysis and protein dynamics are clearly explained and illustrated in a way that would be accessible to biochemistry or chemistry students.
There is coverage of topics such as cell signalling and structural proteins that biochemistry students would hear about elsewhere but which are discussed in more detail at the level of protein structure. Chapter 11 describes the application of crystallography and NMR spectroscopy to protein structure determination.
The text is supplemented with information about scientists who have made important discoveries in each field, problems for students to test their knowledge and references to the primary literature. I might quibble that the topics of post-translational modification and protein folding were tucked away in chapter four and could have been given a bit more prominence, but in general all the topics are easy to find in the book and all are nicely explained.
Overall, I think this is a really nice book that offers an alternative perspective on protein structure and function for biochemistry students, particularly at an advanced level (final year undergraduate, or postgraduate). It doesn't replace textbooks on protein structure, but for the student (or teacher) who wants to understand in more detail how proteins work, and what topics are at the forefront of protein research today, this is an excellent read and good value.