Stephanie Fine Sasse and Lucky Tran (eds)
The MIT Press
2018 | 176pp | £11.99
ISBN 9780262038102
Buy this book from Amazon.co.uk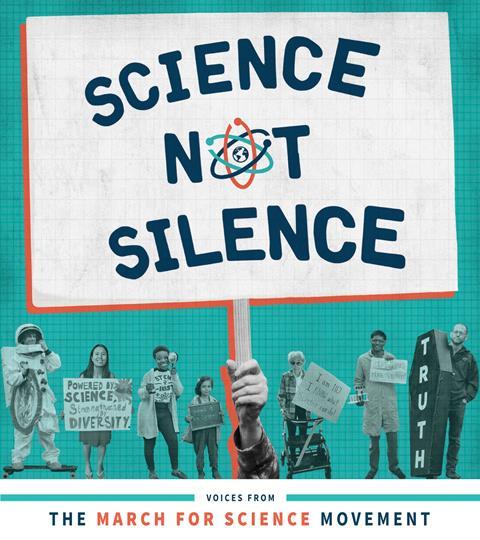 'Due to recent funding cuts this is all I can afford,' reads a post-it brandished by a protester in San Diego, California – one of millions who took to the streets around the world on 22 April 2017 as part of the March for Science.
The movement grew from a feeling of despair and disgruntlement among scientists in the US, who feared federal funding cuts and unfriendly policies from a newly elected President Donald Trump and his administration. Aided by social media, the idea of a public display of solidarity quickly caught on and the March went global.
I didn't attend a rally or take part, but I remember the news coverage at the time, and of course the excellent campaign slogans. 'What do we want? Evidence based science!' One placard screamed. 'When do we want it? After peer review!'
I was really hoping Science not silence would provide some clarity and detail on what the March for Science was hoping to achieve, perhaps tell me a bit about the origins of the campaign and where the organisers see it going in future.
But I was disappointed. There are a grand total of two pages about this. The main body of the book is a collection of photos from the events themselves alongside single-page contributions from selected participants.
What annoyed me further was that the majority of 'voices from the March for Science' whose stories have been chosen for the book don't seem to be working scientists – and many of them barely even mention the march or its overall aims. Instead there is page after page of science communicators and career activists, many of whom seem more passionate about promoting themselves and their own projects than anything to do with the campaign.
Some contributors do briefly outline their own personal reasons for marching, few of which are particularly profound or memorable. There is much vague handwaving about the importance of medical advances, the plight of the environment and a general wide-eyed love of all things science. Even after reading this book, I'm still confused about the strange beast that is the March for Science. It seems to be part protest, part celebration, part competition for who can come up with the nerdiest pun for their sign.
The book's not all bad – it's got some great photography, particularly from marches in parts of the world that were neglected in mainstream media coverage. It works well as a coffee table book, and would probably make a nice memento for those who took part in one of the events. But with a series of follow-up marches taking place this year, the style-over-substance approach strikes me as a missed opportunity.