How a chemist and an artist are learning from each other
Artist Anna Dumitriu has worked with biotechnologists for well over a decade – she has extracted DNA from samples more times than she can remember – but she had not worked with a chemist until she met Robert Neely from the University of Birmingham, UK. They were introduced by colleagues of Neely's then and met over Skype, going on to apply for a Leverhulme Artist in Residence Award.
Neely has been in Birmingham since 2014, previously holding fellowships in Edinburgh and Leuven, Belgium. He is developing fluorescence spectroscopy methods to study biological systems. 'We are looking at using enzymes to fluorescently label DNA molecules and we end up with something akin to a barcode of the DNA molecule,' he explains.
Dumitriu, who is based in Brighton, UK, was attracted to this because it filled a gap in her knowledge. While working on DNA sequencing, she realised that she had little idea of how it was physically done and was fascinated to find that next-generation sequencers use fluorescent molecules. 'Part of it was to really understand that question of what's going on inside these machines,' she adds. 'That's kind of what Rob was working on.'
Coming together
So how does a scientist collaborate with an artist? 'Really we just started talking together,' says Neely. 'She comes in and will follow students in my lab for a few days.'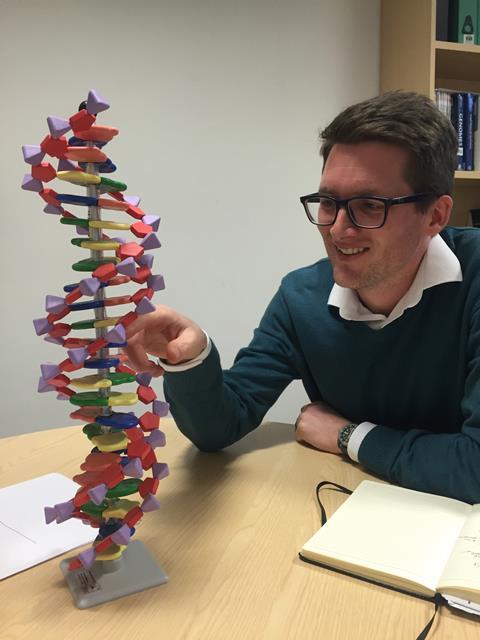 'I was probably in there a week or more each month, and then I would get to a certain stage and I would come and work in my studio on it.' adds Dumitriu. She is also very hands-on when it comes to scientific techniques: part of the collaboration for Dumitriu was to understand DNA from Neely's point of view. 'He see things from a chemistry perspective. He starts by exploring pictures of the chemical bonds, which is fairly outside my comfort zone.'
One of the focuses of the project became using Neely's technique to label Crispr edits in bacterial DNA that Dumitriu had previously created while working with synthetic biologists Roee Amit and Sarah Goldberg at the Technion in Israel. 'Its the first time a Crispr edit has been seen visually using this sort of super resolution imaging with fluorescent molecules,' says Dumitriu.
In any partnership, it's important that both sides get something out of it. For Neely, the collaboration is partly about exploring new ways to communicate his work, but Dumitriu says this project means something more: 'it's about bringing the artist in and seeing how it affects them as well.' The project has also impacted Neely's lab. 'It's easy for the students to get stuck in their own projects and not think beyond them. [The collaboration has] disrupted that a little bit … I see them working better as a team as a result.'
Factfile
Name: Robert Neely
Role: senior lecturer, University of Birmingham
Based: Birmingham, UK
CV: Masters in chemistry and PhD, University of Edinburgh, UK
The collaboration has also made Neely think about creativity. '[Anna's] approach is one that we should aspire to as scientists – she doesn't settle for the next step in her imagination or creativity, she will make one step and then say where should we go from there and take two or three steps,' Neely muses. 'As scientists, it's easy to make the next step, but if I think three or four steps down the line, I may come up with something more ambitious and more exciting.'
Creative sparks
Dumitriu doesn't see any stark distinction between artistic and scientific inspiration. 'I am not one to go along with "the scientists think like this" and "artists think like this"; people try to set that up a lot and I don't really think that's true … the structure of how science is done doesn't obviously welcome a level of creative passion, it's kept to one side sometimes, but [scientists] are still thinking about these things.'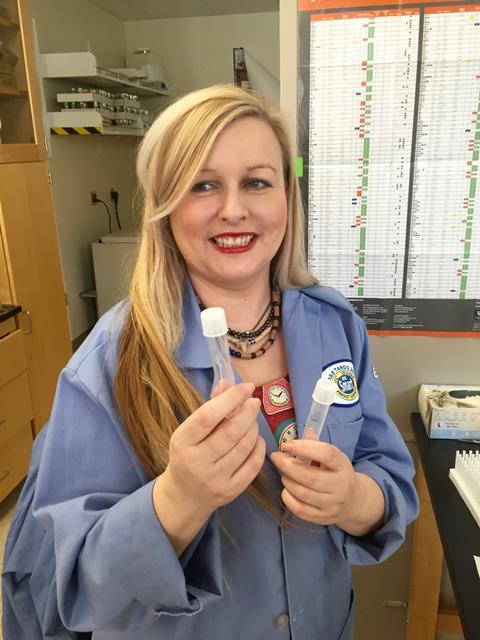 And for those who think the disruptive effect of an artist will bring instant innovations, Dumitriu has bad news: 'I don't think it works like that either – I think that's a red herring'. She says her relationship with Neely has been fruitful partly because of the 20 years of experience she has had with these sorts of projects. 'We've had a couple of conversations about people she has worked with in the past who might have applications for the work we are doing, people that I just wouldn't normally interact with,' agrees Neely.
The collaboration led to an exhibition The chemistry of biology: an alchemy of DNA, which was shown at BOM (Birmingham Open Media) in October 2017. Its huge video projections were derived from microscope images of the Crispr-edited DNA, and the exhibit included some of the chemical ingredients of DNA and the fluorescent dyes used in the work. Yet this is far from the end for the partnership between science and art: Neely and Dumitriu hope to collaborate again if they can find the right opportunities. 'We continue to look for ways to make that work,' says Dumitriu.