There's no denying that it's a difficult time to get your first job after graduation but stay positive and open-minded and you'll surely be rewarded, says Caroline Tolond
There's no denying that it's a difficult time to get your first job after graduation but stay positive and open-minded and you'll surely be rewarded, says Caroline Tolond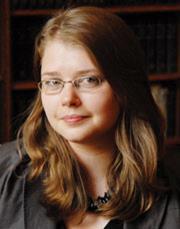 Q I'm in my final year and have started to think about finding a job when I graduate. Over the summer though I've heard that there has been a decline in the number of opportunities for graduates and it's all starting to feel a bit overwhelming. What advice can you give me on looking for a job in this current economic climate?
A You're right - there have been a lot of gloomy stories this year about the UK job market, with some reports suggesting that there has been as much as a 24 per cent fall in the number of graduate vacancies available. It's worth remembering though that this figure combines the number of positions in all sectors and areas such as accountancy, banking and IT - which have recruited large numbers of graduates in previous years and have been hit very hard by the recession, reducing their graduate intakes accordingly.
There are more positive signs though. The Association of Graduate Recruiters (AGR) reported that vacancies in the energy, water and utilities sector actually increased by over 7 per cent in 2009 and in July it was reported that 10,000 graduate entry level positions were still available. All these signs show that recruitment is still taking place, although there is likely to be more competition for each role, making persistence vital if you are job seeking at this time.
It is easy to offer these encouraging words, but I speak from experience, having watched a friend enter the graduate job market in 2002, which was the last time the graduate market took a significant turn for the worse. She temped for 12 months while also applying for many jobs and was eventually successful in entering her sector of choice at graduate level. It wasn't her 'ideal job', but it was a foot in the door, providing valuable experience and has led to a successful career in that sector.
Long-term view
Graduates entering the job market in 2010 may have similar experiences if the AGR's prediction of the graduate job market recovering in 2011 is right, so try taking a long-term view to your job seeking. By all means aim for your ideal job but have a 'b' plan just in case this doesn't work out. This could be taking a fixed term contract, a backroom position or working freelance and thinking about where the experience could lead.
So when should you be looking for jobs in your final year? Well the autumn term, sometime referred to as the milk round, is when many large organisations carry out their graduate recruitment, with the view to graduates starting the following September. These schemes often screen applications as they are received, so if there is a particular company you are interested in then the sooner you can apply the better chance you will give yourself.
Not all companies operate this way though. Shell, for example, prefers to recruit individuals to particular roles, while others, like the RSC, will take applications for their graduate scheme throughout the year, running assessment centres when vacancies arise.
However most graduates don't join formal graduate schemes so don't worry if you haven't secured a position during your final year. There are many immediate-start graduate level jobs that can provide useful experience and you can start to apply for these types of vacancies three months before you finish university.
Don't worry
It can seem very daunting to pick a career, especially if those around you give the impression that they know what they are doing, but try not to worry. If you're not sure what is right for you, focus on thinking about what you want to do and consider the types of organisation you'd like to work for.
Whatever you decide to do, there is a great deal of support available if you find looking for a job difficult after you graduate. Most university careers services will see their graduates for the first three years after graduation and if you are an RSC member you can always speak in confidence and free of charge to a member of the careers service team.