Is it worth doing an MBA to help with the move into management? Caroline Tolond weighs up the pros and cons
Is it worth doing an MBA to help with the move into management? Caroline Tolond weighs up the pros and cons
Q I'm in my mid 30s and, having reached the position of laboratory manager, seem to have hit a glass ceiling in my management career path. I can't seem to make the leap to a non-laboratory management role. A friend has suggested that a Masters in Business Administration (MBA) might help . What do you think?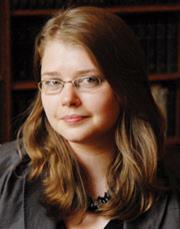 A In terms of shifting your career path from scientist to manager, MBAs are a useful way to expand your knowledge and demonstrate commitment to a career outside of the lab, while also giving a recruiter confidence that you are capable of taking on a management role.
However, if you think that means you need a qualification to take on a management position, then hold it right there, as this is not always the case. Progression to a management role often depends on a combination of the company management, size and culture, and in many organisations it is possible to make this move. Nevertheless you feel in your situation that you have hit a glass ceiling and in this case a qualification may be useful to help you break through.
What impact could an MBA have on your career? Well, during my time as a careers adviser I've worked with clients with MBAs who have had very different experiences of the job market. Some have found jobs quickly on graduation, while others have found that their MBA slowed their job search (although they too have moved into good positions in the longer term, aided by their MBA), so be aware they can be a bit of a double-edged sword.
Course costs
When weighing up the professional benefits of taking on an MBA you'll also need to consider the personal implications of such a decision, such as the impact on your work-life balance and demands on your time from your immediate family. Finances are also a key factor: MBAs are not cheap, with full time fees at some universities in the UK reaching over ?20k a year. When looking into different courses, consider if you could afford to do a full time course, or if it would be better to do it part time over two years. You could also speak to your employer to see if they could sponsor you through the course.
If time and money are barriers to taking up an MBA then you could study via the Open University, although it is not uncommon for members who have gone down this route to take over six years to complete the course. While this is a long time, there are benefits to going down this route as projects may arise with your employer that could provide valuable learning experiences to contextualise the knowledge gained through the MBA and build up your overall CV.
So how do you find the right course? Bear in mind that not all MBAs are the same, with the quality, style and content varying depending on which university you choose. Have a look at the global league tables, read up on different course reviews and read through the advice available on the Association of MBAs' website (it accredits MBAs worldwide). There are also MBA fairs where you can meet representatives from a number of different universities on one day. In addition, UK newspapers The Times, Independent and Financial Times all have sections on their websites about MBAs which are worth a read.
Finally, if the cost or commitment required for a full MBA is off-putting then you could consider a mini MBA. Mini MBAs provide a crash course in finance, management and marketing and, as with full MBAs, can have a sector-specific slant. For example IIR, a knowledge and skills transfer company, and the Management Forum both run pharmaceutical mini MBAs while energy company CWC runs oil and gas 10-day mini MBA courses.