David Preskett tells Helen Carmichael how an early career in forestry led him quite naturally to a PhD in chemistry.
David Preskett tells Helen Carmichael how an early career in forestry led him quite naturally to a PhD in chemistry.
The current chapter in David Preskett's career started in 1995, when he came to Bangor, UK. He had been working in forestry using chainsaws on timber, 'I was at the cutting edge of things, as it were,' he says. 'We used to use mineral oil as a lubricant on the chain.' The mineral oil often sprayed everywhere, covering the workers.
Preskett was pleased when biodegradable oils, based on vegetable oils, replaced mineral oil as chainsaw lubricants. These were much cleaner products to work with 'but I didn't realise at the time that the biodegradable oils were full of additives'.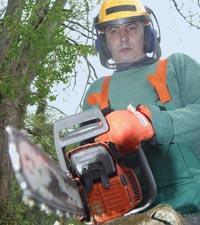 In the final year of his forestry qualification at the University of Wales, Bangor, Preskett tried using pure vegetable oil as a chainsaw lubricant. 'It had never been done before, so it was quite unique.' What's more, the vegetable oil outperformed the biodegradable chainsaw oil, and mineral oils. 'The results were remarkable, and I thought: we can go somewhere with this.'
His final year dissertation was published as a paper. By this time Preskett was working for the Forestry Commission. A colleague and mentor at Bangor put him in touch with C&C Oils, a local company that wanted to make biodiesel.
Steep learning curve
When Preskett started working for C&C Oils, he was making tonne batches of biodiesel. 'This was a bit of a scale up - my previous attempt at vegetable oil methyl esters was to make just one drop.' At this point in his career, Preskett had some laboratory-based experience in chromatography and transesterification. Although he has no formal qualification in chemistry, he has learned in an academic environment through 'experience and quality mentoring'. Even so, he describes the learning curve on starting work at C&C Oils as 'near vertical'.
The university's BioComposites Centre and C&C Oils worked together under a Teaching Company Scheme (TCS). This has now been rebranded as a Knowledge Transfer Partnership (KTP). Part government funded, KTPs help business to work with universities, colleges or other research institutions to share expertise and increase profitability.
Preskett started out developing biodiesel on the TCS, but ended up making a range of other products using natural substances as additives to improve the properties of lubricants. 'My idea was driven by the chainsaw experience, where additives based on mineral oil technology were quite toxic,' he says. (See www.biochemwales.co.uk for full details.)
A growing interest in natural products led Preskett to a PhD, also at Bangor in the chemistry department, looking at novel sources of fatty acids from unused plants. He has developed extraction protocols for various plant species, and is now completing his PhD. He is involved in talks with multinational companies to commercialise sustainable and renewable natural products.
'I had a lot of operational experience in forestry: that's where they felt that I could contribute to the BioComposites Centre,' says Preskett. The centre researches products and processes based on wood, industrial crops, recycled materials and industrial residues to transfer technologies to industry.
Drive for renewables
Preskett is committed to substituting petrochemical products with renewables where possible. Rather than wanting to save the planet and 'weave our own yoghurt', his focus is on a rational business case. 'I can see big industries following on in the coming years to develop and make use of the studies that have been done in places like the BioComposites Centre. Other organisations around the country - such as the National Non Food Crops Centre in York - support and promote our work.'
'If we can reduce our energy use, then it releases all these products for industrial applications, such as in lubricants, plastics, packaging, coatings, paints and so on. This is where I find myself quite inspired by the way that these industries could develop.'
Early business studies training and self-employment definitely helped Preskett. He feels that his experience contributed to the success of the TCS. 'The mix of science and business was the best bit of it; when I was developing the TCS range of products - well, that was fantastic. As it happens we're hoping to license the technology so that the company that funded the scheme benefits from it.'
Preskett didn't expect to make the leap from chainsaw operator to a PhD in an organic chemistry laboratory. 'I'm pleased with the way that I've been able to develop my chemistry skills and my business skills,' he says.
Curriculum vitae
Age
48
Education
1998
BSc Forestry and Forestry Products, University of Wales, Bangor
1981
HND (BEC) Business Studies, Sheffield City Polytechnic
Work experience
2003-present
PhD, chemistry department, Bangor University
2001-2003
Teaching Company Scheme, C&C Oils and Bangor University
2000-2001
Technical manager, biodiesel production C&C Oils
1999
Forestry contractor
1999-2000
Technical Development Forester, Forest Research Agency
1985-1995
Self employed forestry contractor in Germany
Hobbies
Gardening, hill walking, DIY, cooking, two-stroke diesel engines