Organic chemist Steve Wailes uses novel reactions in the fight against crop weeds. Susan Aldridge finds out more
Organic chemist Steve Wailes uses novel reactions in the fight against crop weeds. Susan Aldridge finds out more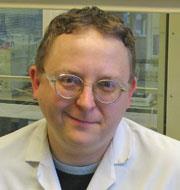 Steve Wailes is fascinated by small organic molecules and is looking forward to his new position as leader of the robotic synthesis team in Syngenta's herbicide lead discovery group. Syngenta is one of the world's biggest crop protection companies, and Wailes's work now involves providing a high throughput synthesis service to project teams looking for safe and effective new herbicides.
He attended Batley Grammar School, where Joseph Priestley (who discovered oxygen) was educated. 'I was fortunate in having three excellent chemistry teachers there,' he says.At Bath University, organic chemistry was his favourite subject 'from day one'. Here he met Alan Armstrong, who was to become his PhD supervisor at Nottingham University.
Wailes might have become a medicinal chemist. He had a year's placement at Zeneca Pharmaceuticals in Alderley Edge during his first degree, and his PhD work was on finding new catalysts for asymmetric epoxidation - a reaction important in both natural product synthesis and chiral pharmaceutical synthesis. But during a workshop in Nottingham run by Zeneca Agrochemicals (now Syngenta), he discovered that agrochemistry and medicinal chemistry have much in common.The big difference is the target - a plant, insect or fungus, rather than a microbe or tumor.
In 1999 Wailes arrived at the Zeneca Agrochemicals herbicide research unit, where he worked for Bill Wittingham. 'I couldn't have had a better boss - he was very supportive and always keen to scribble chemistry ideas on the white board,' he recalls.
The discovery and development process for a herbicide is comparable in time to that for a pharmaceutical - extensive environmental and ecological testing must be done before a new compound reaches the market. So it may be some time before he sees some of his research come to fruition as a commercial product. But he has already published some novel chemical reactions. A highlight, published last year in the American Chemical Society's journal Organic Letters, concerns a new and direct synthesis of O-aryloximes, which have many potential medicinal and other applications. 'I was really pleased my idea worked,' he says. 'When I saw the x-ray structures of the compounds, it was a very satisfying moment.'
His daily lab work focuses on the main challenges of herbicide chemistry. Each crop has its own major weeds, and crop selectivity is critical - compounds must kill the weed but not the plant. Like bacteria, weeds develop resistance to compounds that are used against them - resistance to the major herbicide glyphosphate is a particular problem. 'A resistant weed will not kill you, like MRSA,' says Wailes. 'But it will drive up the price of a loaf of bread.'
His team uses the latest synthetic chemistry technologies - microwave chemistry, microfluidics and, of course, robotics - and is always on the lookout for new developments.
Like many at Jealott's Hill, Wailes also takes a keen interest in the centre's gardening section. The Centre has built a recreational garden, with plants from around the world, including a plot created in memory of Rex Cheetham, a leading fungicide chemist, which won an award at the Chelsea Flower Show.
Jealott's Hill recently received an RSC Landmark Award for 80 years of achievement in crop protection. And, last November, Syngenta and the RSC launched their Pan Africa Chemistry Network. Backed by ?1 million from Syngenta, it will support chemistry infrastructure and education, and bring academics together through conferences and meetings - the first of which is currently being planned.
'There are talented African chemists working in isolation in schools, colleges and companies,' says Steve Smith, group leader of Herbicide Lead Discovery, who is closely involved with the network. 'We want to connect them more effectively with each other and the international chemistry community, so they will be able to achieve their true potential.'
It is hoped that the network will play a role in promoting the economic and social development of Africa through sustainable agriculture.
'The world's population is increasing and they all need food,' concludes Wailes. 'With ever-increasing pressures on available land, this need cannot be met without crop protection.'
Susan Aldridge is a freelance science writer based in London, UK
Curriculum vitae
Age 34
Work experience
2008- Present
Team Leader, Robotic Synthesis Team, Herbicide Lead Discovery, Syngenta Jealott's Hill International Research Centre, Bracknell, UK
1999- 2007
Research Chemist, Herbicide/Fungicide Chemistry, Syngenta Jealott's Hill IRC, Bracknell, UK
Hobbies
Growing fruit and vegetables in an allotment I share with a group of colleagues, cooking (including my own produce), reading, crosswords, puzzles and general knowledge quizzes, losing golfballs, history of science