Five tips for supporting your colleagues and friends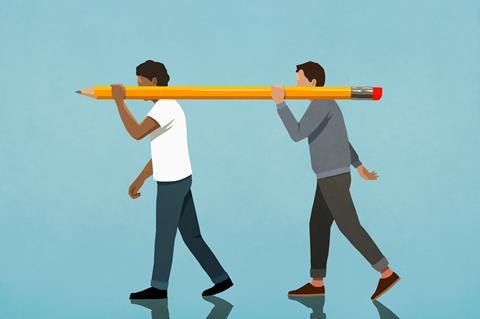 A sense of belonging in the workplace is integral to the happiness and productivity of scientists, yet many marginalised people still face prejudice, exclusion and bias. Good allies recognise unearned privileges and fight for equality. But if you don't have experience of advocating for others, how can you start?
Be an active bystander
'If you notice a colleague behaving in a way that's biased, don't just let it go,' says Janet Stemwedel, a professor of philosophy at San Jose State University in the US. Before changing fields, Stemwedel worked in physical chemistry, where she noticed the biases facing women in Stem. Intervening when an uncomfortable interaction happens can make a huge difference, as the perpetrator is given the opportunity to learn from their mistakes, she says.
Chrissy Stachl, director of education, outreach, and diversity at the Center for Genetically Encoded Materials in Berkeley, California, agrees that being an active bystander is a powerful way to challenge the status quo. While studying for her PhD in chemistry, Stachl became particularly interested in how her department could create a sense of belonging for non-white and non-male scientists such as herself.
Taking on the role of a predesignated 'bias buddy' – a friend who agrees to speak up for marginalised colleagues – can take the burden off. Stachl has also experienced unexpected allyship from seniors. 'It is particularly impressive when it's someone in a position of power that stands up for someone else,' she says. Stachl's research on building inclusivity in chemistry can be found on her website, chrissystachl.com.
Listen to marginalised scientists
Listening to underrepresented voices is essential for shifting your perspectives and behaviour.
David Smith, a professor of chemistry at the University of York, UK, has developed an allyship guide as part of an LGBT+ toolkit, which is available to download from the Royal Society of Chemistry website. He emphasises that listening and self-reflection is important. 'If you're going to speak up on behalf of the LGBT+ community, it's important to know that you won't always get it right' he says. 'Speak up if you see something that's wrong – but if an LGBT+ individual is involved, make sure that they are happy for you to do so.'
Realise that the system needs fixing, not the people
Academia can structurally exclude marginalised people. This is reflected in a lack of childcare provision at conferences, ableist architecture preventing disabled students and staff from accessing lecture halls, or an absence of publicised mechanisms for reporting racism.
But how do you work out which parts of your current environment need fixing? Stemwedel suggests asking some of the people you're trying to help, and looking at the empirical research on features of Stem environments that undermine diversity, equality and inclusion.
Take the time to educate yourself by also looking through your workplace's diversity and inclusion resources (and flagging up if they are not adequate). In your down time, keep learning about systemic forms of discrimination through the media you consume, and follow diverse voices and hashtags on your social platforms – #BlackinChem, #WomenInChem and #ChemEquality are some good places to start.
Don't expect praise
Although it feels good to know you have helped, allies can fall into the trap of expecting a pat on the back for their efforts. They are often perceived as standout colleagues, even if what they do should be normal. But, if everything you do is for the approval of others, you risk performing activism rather than doing it.
Until we rebuild science to support the flourishing of everyone who wants to pursue Stem, there's still so much work to do, says Stemwedel. So, take part in this mission, stay humble, and don't expect marginalised people to know that you're an ally if you're not actively engaged in the work of making the community more inclusive, she says.
Know the limits to your understanding
Trying to understand people's experiences is key to being a good ally. But, remind yourself that other people's lives are just as rich and complicated as your own. At work, you might only see one side of the story.
Sophie Prosolek, a mental health advocate finishing her PhD in biochemistry, was diagnosed with bipolar disorder early on in her postgraduate journey. Her symptoms affected her studies, so she took breaks to manage her diagnosis.
'For me, the illness goes deeper than just feeling down, which might not be obvious to colleagues,' she says. 'Be compassionate and try to empathise, but understand that depression or anxiety are different for everyone, and no two experiences will be the same.'
Standing in solidarity, and being continually open to learning, can be a more effective way to support colleagues than over-generalising from your own experiences.