Sarah Houlton finds out who would benefit from a career coach. Most of us, apparently...
Sarah Houlton finds out who would benefit from a career coach. Most of us, apparently...
In an ideal world, if you're not sure where your career is going, you'd go and have a chat with your boss and get wise, impartial advice. But few people feel they can talk that frankly with their manager, worrying they might not sound committed to the company or their job. This is one area where a career coach can help you.
'A career coach is an expert sounding board if you have any questions about what's next for your career,' explains Corinne Mills, joint managing director at Personal Career Management. 'Perhaps you've reached a career crossroads or fallen out of love with your job, perhaps you're looking for promotion but you're not sure, or maybe you know what you want but you're struggling to get it. They can help with your thinking process, and even the practicalities of how to make it happen.' A career coach can help people work out just what's bothering them, and evaluate all the different options, she adds. 'Many people with a rational and scientific approach struggle when they're trying to process "softer" information like this.'
Coaching for all
Denise Taylor, career psychologist with Amazing People, adds that you don't need to be unhappy in your job to benefit from a career coach. 'That may be one of the reasons, but it can be about any aspect of your career,' she says. 'Talking to an outsider can be really helpful, whether you're right at the beginning of your career and unsure which direction to go in, or towards the end, as a 60-year-old with a lot left to offer, but unsure what to do.'
So how does one go about finding a career coach? The internet is a great help in sourcing one, but caution is advised. 'You first need to ask yourself what help you need,' Taylor says. 'Do you need help because you don't know what direction to go in, is it more about the job search, or is it deeper than that? Many people claim to be career coaches as the barriers to entry are minimal - life coaches may also offer career coaching, and if you're lucky they may have done a one-day course!'
Mills agrees. 'It's important to check out whether a coach is reputable,' she says. 'The key things are to check their professional qualifications, who they are recommended by, and whether they follow an established code of practice. You must work with a coach you have a rapport with as this is about you and your life.' Some companies even use high-pressure sales tactics that tie you into a course of expensive one-to-one sessions, when all you may really need is one phone call.
Face to face on Skype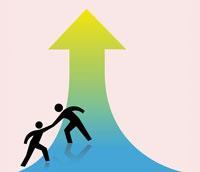 Once you've found your coach, they will work out a plan with you. 'I send new clients background information and things to think about before our introductory chat,' Taylor says. 'I start by spending 15-20 minutes finding out a bit more about them. Many clients will then choose a structured programme of coaching sessions, but if I think all they need is a nudge in the right direction, then that's all we'll do.'
Mills says that while a lot of her career coaching is done face to face, Skype is becoming an increasingly important tool. 'One-to-one sessions are usually an hour-and-a-half long, with activities and exercises to do between the sessions,' she says. 'They will then return for a very focused discussion.'
On the job search side, a coach can help with your CV. 'Clients might have been applying for jobs for months and got nowhere,' Taylor says. 'I look at their CV and we look at ways to improve it. I'll also do mock interview sessions, and that gives a really clear picture of whether they know how to sell themselves and portray their strengths and weaknesses.'
Reversing demoralisation
In the current difficult recruitment market, Mills says, people can be demoralised by rounds of redundancies and growing workloads. 'Even then, though, they may be better off to stay where they are than leap into something else,' she says. 'A career coach can give advice on asking a manager to prioritise workloads, dealing with difficult colleagues, or even asking for a pay rise. While sometimes it's better to leave, the timing is important. I often advise clients to stay where they are for the moment, while actively looking for something else. Being unemployed is stressful, and you might feel even worse than you do now.'
Sarah Houlton is a freelance science writer based in Boston, US
Further Reading
Amazing People: career coaching company
Personal Career Management: outplacement & career coaching services