Missing your lab days? Even after years away, you may be welcomed back to science research with open arms, says Matt Brown
Missing your lab days? Even after years away, you may be welcomed back to science research with open arms, says Matt Brown
Most scientists pursue the tried and tested career path of doing a PhD, a postdoc, and then entering academic or industrial vocations. Along the way, many leave the laboratory to pursue other paths. But giving up the bench does not mean you've burned your bridges. Returning to research, even after a break of a decade or more, is not as difficult or uncommon as you might think.
'It's good that there are organisations who say ''that's not the only way to do science'',' says Suzanne Duce, a Wellcome research fellow at the University of Dundee, UK. Duce got back into research - studying embryo development using magnetic resonance imaging (MRI) - after a lengthy absence. After her postdoc, and with young children to care for, she moved to a region without MRI research facilities. 'I didn't really expect to return, and didn't keep up with the field,' she says. Almost 15 years later, the family moved to Dundee, which had a suitable lab willing to take her on if she could get funding. Her return was helped by a Wellcome Trust career re-entry fellowship.
These 2-4 year awards were set up by the Trust in 1994 in recognition of the large numbers of talented people who might want to return to science but lack funding and training. There is no annual cap on the number of fellowships awarded, and each application is judged on its own merits. Having personal drive, good contacts and a decent publication record are all helpful.
Duce relates that returning was hard work, requiring new training and study. Even putting the fellowship application together required plenty of background reading. But the move was ultimately worthwhile. 'Re-entry fellows often enjoy their research a lot and enjoy the challenge, possibly because their perspectives change having done other things,' she says.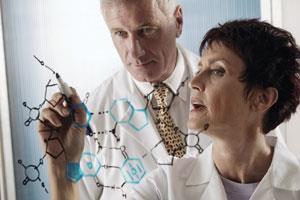 Since 1985, the Daphne Jackson (DJ) Trust has offered another helping hand to returners. Any UK resident with at least two year's absence from science can apply for a fellowship, which includes funding, training opportunities and support meetings. Applicants should have already identified a host university or research organisation, and a willing supervisor for their project.
Self-motivation
A fellowship helped Sharon Strawbridge return to work. Maternity, serious illness and a departmental closure all conspired to keep her away for over two years, just when she was completing a PhD in electrochemistry. '[The Trust] gave me a way back in - the stepping stone I absolutely had to have,' she says. 'I'm fairly adaptable, but if you haven't touched kit for a long time, you have to have a lot of confidence, determination and self-motivation.' She now works at Exeter University, UK, as a teaching fellow in electrochemistry and semiconductor physics.
Margaret Rayman took around 20 years out. She left her research, which included the handling of trans-placental carcinogens, when she became pregnant. Two decades later, she secured a fellowship at the University of Surrey, UK, where she helped set up a Master's course in nutrition for doctors, while retraining to conduct research into the effects of selenium on the body. 'Adapting to new IT and technology were the biggest challenges,' she says. 'I had no problems fitting into the lab culture. Age brought confidence.'
Welcome return
Although the DJ fellowships were originally set up to help women returners, men may also apply. Ken Hamilton works at the University of East Anglia,UK. He lost his job at a private drug company just a few days before his fiftieth birthday. Having applied, unsuccessfully, for jobs in organic chemistry, he decided to retrain to work with children who, like himself, are deaf. After a few years away from science he heard about the fellowships and made a successful application. 'Returning to synthetic chemistry, it felt as if I'd never been away. Much to my surprise, I still had the skills needed for practical organic chemistry,' he relates. 'However, it wasn't easy. I had to learn to discipline myself in a way that wasn't needed in industry, where research tends not to be so open-ended as in academic labs.'
For women returning to science, the UK Resource Centre for Women in SET (UKRC) is an invaluable resource, offering advice, case studies and support groups. The centre helped Kasia Wolanska-Hajduk find employment in industry after five years away from science. She moved to the UK having gained a Masters in fuel technology in her native Poland. Initial language difficulties and family commitments made returning to work difficult. With help from the UKRC, she took a life sciences foundation course, which provided a work experience placement at Abbott laboratories in Dartford, UK. She was subsequently offered a job at Abbott, where she now works as a monoclonal antibody technician. 'You need to have patience and readiness to change,' she says. 'Be prepared to start from a lower level, and climb back up the ladder.' She's now looking to return to her scientific roots. 'My first interest is chemistry,' she says. 'My aim was to get in somewhere, to get in where I could, and then think about moving within departments later.'
There are, then, several options open to those who want to dust down their old lab coat. A little bit of luck and a lot of hard work can do wonders, but you'll also need assistance from experienced organisations and supportive individuals. 'There are different parts of the jigsaw that one needs to get back to research,' concludes Suzanne Duce. 'I think having good mentors with experience that support you is really important.'
Matt Brown is a freelance science writer based in London, UK