Daniel Bayston enjoys a varied career in pre-clinical drug development, writes Bea Perks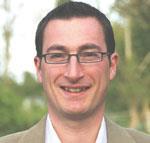 Taking a year to backpack round South America and beyond gave Daniel Bayston the time to think about what he really wanted from his career. What he really wanted to do, it turned out, was what he'd been doing all along. Bayston is a development chemist through and through.
His chemistry education began at Sheffield University where, after graduating with a BSc in Chemistry, he started on a PhD investigating synthetic methods; using organosilanes as precursors to tetrahydropyrans and tetrahydrofurans. Mid way through the project, he relocated to Louvain-la-Neuve in Belgium where his supervisor, Istvan Etienne Marko, had taken up a professorship. After 18 months in Belgium, Bayston moved to Oxford for a postdoc with John Brown, preparing variants of the Quinap ligand, which has been used in various asymmetric transformations.
His first job was at what was then Oxford Asymmetry, but evolved to Evotec and then Aptuit. 'The early years were a real learning ground for me in scale-up chemistry and also gave me the chance to pursue my interest in asymmetric catalysis,' says Bayston. For the next five years he was involved in a number of projects that led to both publications and patents. He ended up running teams of up to 10 chemists on customer-related projects. 'These years gave me the chance to work on quite a variety of different chemistries and allowed me to liaise with clients from various companies,' he says.
Perhaps things were going too smoothly for Bayston because, at the end of 2000, he and his wife decided 'to leave our jobs and do a spot of backpacking.' In 2001 they rented out their cottage in Oxfordshire, packed a bag each and flew out to Mexico City where they began a year long adventure around South America, the South Pacific and South East Asia.
They returned to the UK when their money ran out. 'Unexpectedly, we both returned to the same companies that we'd worked for previously although neither had officially kept our jobs open for us,' he recalls. The only difference for Bayston was that he began working in the discovery department of what had then become Evotec. 'My move into discovery was fuelled by the thought of being at an earlier stage in the drug discovery process,' he says, 'and an interest in finding out about medicinal chemistry.' But during the next two years he realised he didn't find med chem as rewarding as he'd found development chemistry. Luckily he'd kept in touch with an old colleague from Evotec who had moved to Almac (then called CSS) in Craigavon, Northern Ireland, who invited him over for an interview. 'I came over to Northern Ireland and was pleasantly surprised with the facilities,' says Bayston. 'I realised that the company was on the way up and had a talented workforce to help it succeed.' He became process development manager 'and soon moved over to Craigavon with a heavily pregnant wife in tow!'
That was nearly eight years ago, and he now has three children 'born and raised in Northern Ireland'.
Almac makes exploratory drugs that are used in clinical trials, an industry tightly regulated by current good manufacturing practices (cGMP). 'Being a development chemist means that I can really get into the detail of what is happening in a chemical reaction,' says Bayston. 'We are able to get a good idea of detailed mechanisms of the reactions we perform and hence potential impurities that could be formed in the process.' With that information in hand, his team can develop the chemistry to minimise impurities and ultimately produce a final product of very high purity. Almac's chemistry department works very closely with its analytical department, which develops and validates analytical methods; its physical sciences group, which performs salt and polymorph screens; and its pilot plant, which scales up these processes.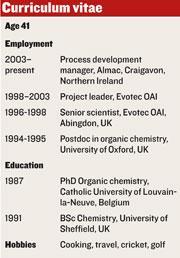 'Working at Almac has allowed me a see a bigger picture of the activities that are needed during drug development,' says Bayston. 'We have a radiochemistry department that prepares 14C labelled APIs [active pharmaceutical ingredients] that are used for ADME [absorption, distribution, metabolism and excretion] studies, a formulation division and a clinical packaging and distribution division that deal with supply of the final drug product for the patient.'
He is on the verge of seeing a medical imaging agent, currently in Phase III trials, taken right the way through from its earliest stages to commercial release.
The work at Almac is all performed under contract for other companies in the pharma, biotech and virtual sectors. 'This adds another dimension to our work in that there is a client to keep up to date on progress,' says Bayston. 'It also means that there is a very large variety to the chemistry that we perform, be it in scale, complexity, reaction type - there is plenty to keep our chemists interested.'