Emma Blaney joins a growing number of chemists leaving big pharma for careers in contract research organisations (CROs), reports Sarah Houlton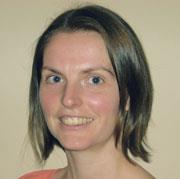 A childhood curiosity about snakes, venoms and antidotes led Emma Blaney into drug discovery. 'Rather than working with poisons, I decided I wanted to work with medicines, and I set my sights on working for a pharmaceutical company,' she says.
Blaney studied chemistry and pharmacology at the University of Liverpool, UK, believing the combination would give her a good grounding. 'I was academically better at physical chemistry, but my interest in organic was stronger,' she says. 'I followed my heart rather than my brain, and accepted a PhD place at Leeds with Ron Grigg.'
From frogs to cancer drugs
A scholarship from the Leeds University Literary and Philosophical Society enabled her to choose her own project. This quickly evolved from an initial interest in Grigg's work around the frog toxin epibatidine to the identification of the spirotryprostatin alkaloids, natural products with potent anticancer activity. She synthesised them and some analogues, and in collaboration with the Institute of Cancer Therapeutics at the University of Bradford found that some analogues had increased activity against cancer cell lines.
The biggest challenge she faced during her PhD, however, came with the birth of her first child. Her supervisor couldn't have been more supportive, she says, giving her six months off. With the help of a childminder, she returned to the lab and, amazingly, barely overran her three years - she finished in the lab in November, and started work in January, having typed up her experimental results and researched the introduction to her thesis while on maternity leave. 'I have too much of a competitive streak to want to be left behind!' she says.
That first job was the one in drug discovery she'd dreamt of - with GlaxoSmithKline in Harlow in the neurology and gastrointestinal group. 'When I started at GSK, it was very exciting - working with inspirational people who had successfully brought drugs to the market. I learnt a huge amount from them,' she says.
While on maternity leave with her second child, she was promoted to team leader. 'It was great to be considered for promotion when I wasn't even at work! It gave me something to look forward to going back to work for. Much as I'm ambitious and I love my chemistry, family life is also important and GSK offered a fantastic work-life balance.'
Her return to work coincided with big changes at GSK, and she was no longer working with many scientists in the UK, but largely with people in India and China. 'Much as it made business sense, I was saddened that as a very enthusiastic scientist who wanted to get the job done myself I was essentially giving instructions to other people,' she says.
Scientific instincts
She began looking for a job closer to science following another company rearrangement moving her from Harlow to Stevenage while on maternity leave with her third child, and a role in computational chemistry and outsourcing. An advert for a job at the contract research organisation Peakdale Molecular, based in Derbyshire, piqued her interest. 'When I visited to see if it might satisfy my scientific instincts a little more, I was impressed by how vibrant and lively it was,' she recalls.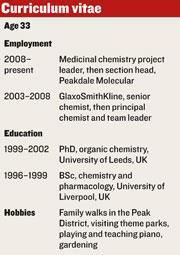 She was taken on as a medicinal chemistry project leader, and then promoted to section head. 'I'm a practising bench chemist 70-80 per cent of the time, working on a variety of projects - anything from milligrams to kilograms, arrays to complex individual syntheses and method development.'
The section heads have teams of 15-30 chemists. 'We're responsible for health and safety in the lab, scientist training and development, project management and budgets. It's a very interesting position - there's an insight into everything that's going on.'
She doesn't want to say goodbye to the bench any time soon, but would like to have more influence on the company's direction. 'Small companies like Peakdale have to evolve at a phenomenal rate to keep up with competitors in China and India - we try to compete on price but also aim to add extra value elsewhere,' she says. 'It's a great job, I find it very stimulating, energising and interesting, and hopefully I'm able to pass some of that on to the people around me.'
Sarah Houlton is a freelance writer based in London, UK