In Second Life real people live in a virtual world. Joanna Scott has a actual job there, organising scientific events within the online environment, reports Sarah Houlton
In Second Life real people live in a virtual world. Joanna Scott has a actual job there, organising scientific events within the online environment, reports Sarah Houlton
Joanna Scott studied biology at the University of Oxford, UK, and on graduating in 2004 went to work for Nature Publishing Group (NPG) on its graduate scheme. 'I joined NPG's web publishing group, where I still work,' she says. 'But my role has changed dramatically since then.' In the New technology department, her remit was to investigate how technologies such as the internet could be used to further science communication. At first, this largely focused on industry research, and she was involved in projects including an experiment in online peer review.
A couple of years later, her boss saw Cory Ondrejka from Linden Lab, the creators of Second Life, give a conference presentation, and was blown away by it. 'He thought it was amazing and had enormous potential,' she says. 'I was asked to look into it as part of my remit in industry research, and see if there was anything we could do with it.'
She soon realised that the best way to do this was to enter the virtual world, so they bought a small amount of virtual land - an island they called Second Nature. 'As Second Life is a virtual world with a 3D visualisation aspect, we started out creating a model of a cell, based on electron microscopy data published in Nature. And we created a really interesting molecule "rezzing" gadget: you walk up to it in Second Life, and type in the name of a molecule. It then searches the PubChem database for structural information, and generates a ball and stick model of the molecule in front of your eyes.'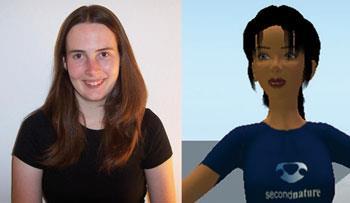 The island was opened up to scientists and educators who had an idea for something they might like to try in Second Life. 'Second Life became a home to experimental projects, with people dipping their toes into the virtual world,' Scott says. 'My job in the beginning was to manage all of this - the community, the building projects and so on.'
In the presence of strangers
Second Life makes it easy to communicate in real time with anybody, so running live virtual lectures and events seemed a logical next step. They invited scientists of all disciplines to give talks about their work - live presentations about what they are doing, with the audience made up of anyone who chose to show up. 'They're very similar to real life public lectures, but held in Second Life rather than a real venue,' she says. 'They were very successful - way beyond anything we'd expected. And the audience was really varied - ranging from chemistry professors at top US universities right down to interested people with no scientific background. They proved so popular that we're still running live lectures every Tuesday.'
Her remit has also expanded into other parts of Macmillan (NPG's parent company), and the island's name has changed to Elucian Islands. 'We've done several book launches and live events for other parts of the company. We have all this experience in Second Life and it makes sense to share it,' she says. And her role is expanding outwards, too, organising paid events within Second Life for clients, such as running conferences. These can be streams of real world conferences, or entirely virtual events.
Real collaborations
Joanna relocated to San Francisco last year, and continues to organise live events as well as working with clients and looking after the technical side of things. 'The best thing about my job is meeting new people and introducing them to what Second Life is all about,' she says. 'And some really important collaborations have come about as a result of Second Life. We had a chemistry professor and a maths professor who had never met, but were both using Second Nature and realised they had a common interest in molecular visualisation in Second Life. They've now been working together for a couple of years and have co-authored a number of presentations and papers. This real life collaboration would never have happened without Second Life.'
Sarah Houlton is a freelance writer based in London, UK