Andy Fowler's experience at the bench and in the factory helps chemists keep their work safe, reports Susan Aldridge
Andy Fowler's experience at the bench and in the factory helps chemists keep their work safe, reports Susan Aldridge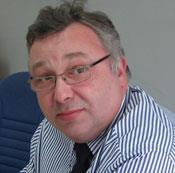 As principal consultant at HFL Risk Services, Manchester, UK, Andy Fowler knows that chemistry is sometimes risky - but that the right approach can protect the individual, society and the environment from harm. His main role is to prepare Comah (Control of Major Accident Hazard Regulations, 1999) safety reports for clients whose work involves significant quantities of toxic, flammable or otherwise dangerous substances. He comes to this new position from a background in research, the chemical industry and the Health and Safety Executive (HSE).
'From the days of my first chemistry set, given to me when I was ten by my father, I have been hooked on the chemical industry,' he says. He stayed on at Durham University after his first degree to research surface and bulk properties of cellulose nitrates under the supervision of David Clark, an expert in x-ray photoelectron spectroscopy, a technique that focuses on the first 25 ?ngstroms depth of a chemical surface. 'Clark really developed my passion for research further,' he recalls.
Several years of research into cellulosic water-soluble polymers at the textile group Courtaulds followed, where Fowler worked both at the bench and in the factory developing pilot plants for the manufacture of new products.
These compounds are used in applications as diverse as food, cosmetics, pharmaceuticals, and oil-well drilling; Fowler worked on many new products, including egg white substitutes and detergent additives. 'Before I started in industry, I always thought I wanted to be a bench chemist,' he says. 'But this quickly changed when I was given the job of managing a pilot plant, which progressed to trials on a full scale production plant. This involved me much more in interacting with the engineering disciplines, which I enjoy greatly.'
Cutbacks on the R&D side preceding the break-up of the Courtaulds empire changed the nature of Fowler's job and he decided to look for a new challenge. His experience in the chemical industry got him a post as a process safety inspector at the HSE. 'This was a great job because I had to use the theoretical parts of my skills and experience in the chemical industry across a very wide sector of industry. One day I would be at a refinery looking at the cat cracker, and the next investigating a carbon monoxide poisoning in someone's house from a faulty boiler,' he remembers. 'The breadth and depth of health and safety work is enormous and allows the application of your discipline to solving many different problems.'
After 16 busy years and many different positions at the HSE he moved to his current position at HFL Risk Services. His input into Comah reports involves the technical and predictive aspects of how plants using hazardous substances are designed and operated, and what risk reduction measures have been installed. He assesses what might happen - explosion, fire or toxic gas release - if a hazardous material loses containment for some reason. 'When a chemical reaction is scaled up, the thermodynamics and kinetics can alter significantly and a benign reaction in the lab can turn into disastrously exothermic decomposition on a large scale,' he explains.
Risk assessment is an attractive prospect for a chemist who is starting out, or has some years' industrial experience. 'The best parts of my job are the interaction with clients and the detail needed in the work to solve problems,' Fowler says. 'There is tremendous opportunity for learning from other disciplines, such as process and instrumentation engineering, toxicology, and mathematics. If you enjoy problem solving and using your core skills in the understanding of substances and processes, then health and safety work can be extremely rewarding.'
CURRICULUM VITAE
Age 48
Work experience
March 2008-present Principal Consultant HFL Risk Services, Manchester, UK
2003-2008 HM Specialist Inspector Process Safety and Risk Assessment Health and Safety Executive (HSE), Hazardous Installations Directorate, Bootle, UK
2000-2003 HM Specialist Inspector Process Safety HSE Hazardous Installations Directorate, Bootle, UK
1996-2000 HM Specialist Inspector Process Safety, HSE Technology Division Bootle, UK
1992-1996 HM Specialist Inspector HSE Birmingham, UK
1990-1992 Senior Process Chemist Water Soluble Polymers Courtaulds Chemicals Derby, UK
1987-1990 Principal Research Chemist Courtaulds Research, Coventry, UK
1985-1987 Research Scientist Courtaulds Research, Coventry, UK
1984-1985 Chemist Courtaulds Research, Coventry
Education
1981-1984 PhD Chemistry University of Durham
1978-1981 BSc Chemistry University of Durham
Hobbies
Travel, motoring, rambling, flight simulation, home computing